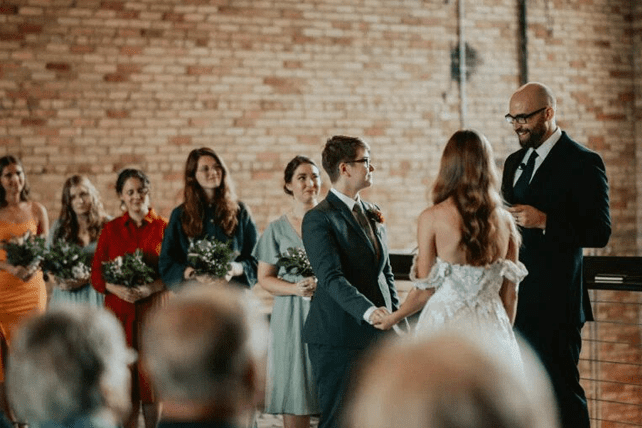 (RNS) — When a former student asked Calvin University professor Joe Kuilema to officiate her wedding last fall, he said yes right away — despite a school policy that views same-sex marriage as sinful.
That decision will likely cost him his job.
Kuilema learned this week that Calvin's Professional Status Committee decided not to renew his two-year appointment to the Calvin faculty due to his ongoing conflict with Calvin's leaders over the issue of LGBT inclusion.
"I know this is not the outcome you were hoping for, Joe," Calvin Provost Noah Toly wrote in a letter dated April 18. The letter and several supporting documents were published online by the Chimes, Calvin's student newspaper. The university confirmed the letter and documents are authentic.
Kuilema, who plans to appeal the decision, said he was not surprised by the news.
"I was deeply disappointed by the committee's decision," he said. "I love Calvin University. I love working here. I love our mission. And I think it's important to say that I did what I did, because of that mission."
The social work professor, who was a church elder at the time he officiated the wedding, has long been known for his support of LGBT students at Calvin, which is located in Grand Rapids, Michigan. He said that even though the wedding was a civil ceremony, he consulted with the pastors at his church ahead of time.
That church, like Calvin, is part of the Christian Reformed Church, a denomination that opposes same-sex marriage and teaches that sex should be limited to within a marriage between a man and a woman. Unlike other churches in the CRC, though, Kuilema said his congregation affirms same-sex marriage.
"I thought I had the personal academic and ecclesial freedom to do what I did," he said.
In a March memo, Dean Benita Wolters-Fredlund called Kuilema's decision to officiate the wedding a "serious lapse in judgement," given that Calvin adheres to the CRC's teachings forbidding same-sex marriage.
"Thus, despite Prof. Kuilema's stellar record in the areas of Christian Reformed commitment, teaching, scholarship and service, and in contradiction with the unanimous recommendation of the tenured faculty in the Sociology and Social Work Department, I am unable to recommend that Prof. Kuilema be reappointed," Wolters-Fredlund wrote.
The memo also detailed that Kuilema, who began teaching at Calvin in 2008, was denied tenure in 2018 due to "concerns around his tone and strategy with regard to controversial theological topics and LGBT+ advocacy."