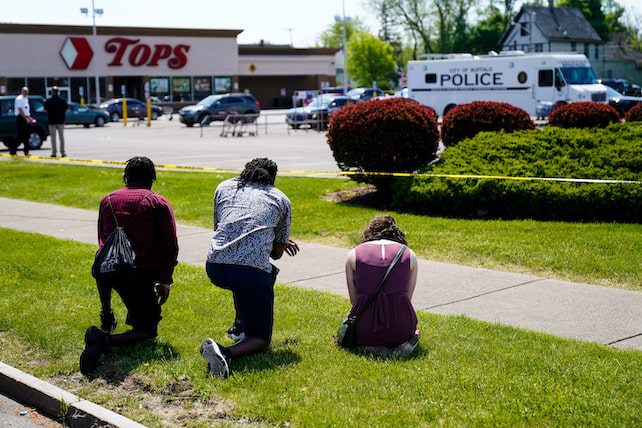 After Saturday's mass shooting at a grocery store in Buffalo, New York, community members are grieving 10 victims of the Buffalo shooting while authorities investigate possible racial motives behind the attack.
An 18-year-old white man is in custody after allegedly opening fire inside a Tops Friendly Market, located in a predominantly Black neighborhood. The heavily armed suspect, who traveled 200 miles to Buffalo, posted a lengthy diatribe about targeting Black people, according to officials. On Monday, they revealed that he planned to carry out more attacks.
Buffalo Shooting: Alleged Shooter Is 'Pure Evil,' Says Sheriff 
FBI spokesman Stephen Belongia says Saturday's shooting is being investigated "both as a hate crime and racially motivated violent extremism." Erie County Sheriff John Garcia calls the alleged shooter "pure evil," saying, "It was straight up a racially motivated hate crime."
Of the 10 people killed and three injured, 11 were Black. All but one was age 50 or older. Victims include a retired police officer, the mother of a former Buffalo fire commissioner, and several people known for their strong faith in God.
Buffalo Shooting Victims: Pearl Young Was 'Full of Giving'
Pearl Young, who was killed while shopping, is being remembered as a beloved teacher, missionary, and "true pillar in the community." Young, 77, served as a substitute teacher in Buffalo's public school system and as a Sunday school teacher who showed up to church at 6:45 a.m.
On Sunday, congregants at Good Samaritan Church of God in Christ told reporter Madison Carter about Young's constant smile and her "love of God and people." One tearful woman said the church family wouldn't "be the same without her."
Over the weekend, a tweet by Carter went viral, with a description of Young's dedicated service to the community: "… For 25 years she ran a pantry where every Saturday she fed people in Central Park [Plaza]. Every. Saturday. She loved singing, dancing, & being with family. She was mother, grandma, & missionary. Gone too soon."
Bishop Glenwood Young describes his sister-in-law's dedication to a local soup kitchen. "Even if it was nothing but soup and bread, whatever she could do, she would just always avail herself to help the people," he says of Pearl. "Her life was full of giving."
He adds, "In all aspects, she was a missionary. She was a licensed missionary in the denomination, so she not only did speaking engagements, she was just involved in so many different things to help humanity. That was her goal in life, seemingly, whatever she could do to help someone."