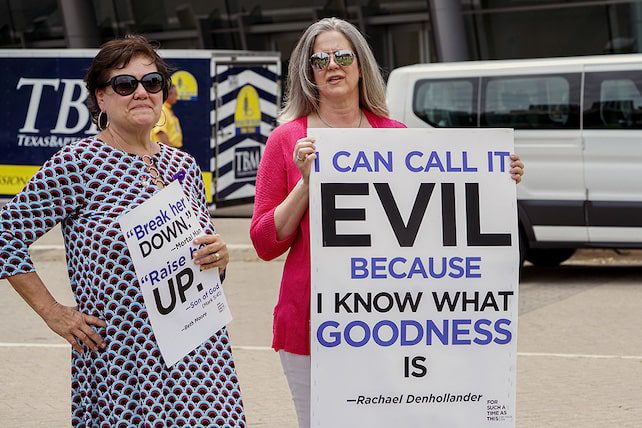 (RNS) — The report on the Southern Baptist Convention's handling of sexual abuse, conducted by the independent review firm Guidepost Solutions, is unsparing in its criticism of the actions, and the inaction, displayed by the denomination's leaders, members and critics over a two-decade period, from January 1, 2000, through June 14, 2021. But allegations and recommendations about how to respond to those allegations existed long before that period and in the years since.
Here's a timeline of Southern Baptists and sexual abuse:
1980s
Darrell Gilyard, a protégé of former Southern Baptist Convention Presidents Paige Patterson and Jerry Vines, is fired from several churches after being accused of sexual abuse. He is eventually convicted of sex crimes against minors but returned to the pulpit. He is listed by Florida authorities as a registered sex offender.
2000
In a letter responding to a pastor seeking advice about preventing sexual abuse, SBC President Paige Patterson describes the benefits of holding a "lunch and one-hour awareness seminar" should the church later be pulled into litigation related to sexual abuse.
At the annual meeting, delegates known as "messengers" pass a resolution, "On Condemning the Trafficking of Women and Children for Sexual Purposes." It reads in part, "We acknowledge our own fallenness and the need to prevent such appalling sins from happening within our own ranks. … (W)e encourage those religious bodies dealing with the tragedy of clergy abuse in their efforts to rid their ranks of predatory ministers." 
2002
After the Catholic Church's sexual abuse scandal erupted in Boston, Southern Baptists pass a resolution at their annual convention on "sexual integrity" of the clergy. It calls on ministers "to be above reproach morally" and urges churches "to discipline those guilty of any sexual abuse in obedience to Matthew 18:6-17 as well as to cooperate with civil authorities in the prosecution of those cases."
2004
D. August "Augie" Boto becomes Executive Committee general counsel, advising SBC Presidents Morris Chapman, Frank Page and Ronnie Floyd in the committee's responses to allegations of sexual abuse.
At the annual meeting, SBC President Jack Graham rules a motion recommending the creation of a child abuse study committee "out of order."
A lawyer for Christa Brown, a survivor of clergy sexual abuse, sends a 25-page report about her experience of being abused at age 16 by a youth minister, who was later transferred to another SBC church. James Guenther, an SBC lawyer, responded by saying, "The Convention has no spiritual right to defrock a minister" and noted that the name of the person in question was not found in a list of SBC ministers. "We regret the pain Ms. Brown expresses," he wrote. "We pray that Ms. Brown can find peace."
2006
In September Brown and leaders of Survivors Network of those Abused by Priests hold a media event outside Executive Committee offices in Nashville, Tennessee. Boto responds three days later opposing her "adversarial posture."
In December, an Executive Committee staffer presents Boto with a memo "on the SNAP proposals and how they fit with SBC polity," according to Guidepost's report. Boto appeared to take no action. The same month Steve Gaines, who served as SBC president from 2016-2018, acknowledges he delayed acting on knowledge that a staffer of his prominent Memphis, Tennessee, church had previously sexually abused a child. "I realize now that I should have discussed it further with this minister and brought it to the attention of our church leadership immediately," he said in a statement quoted in Baptist Press.