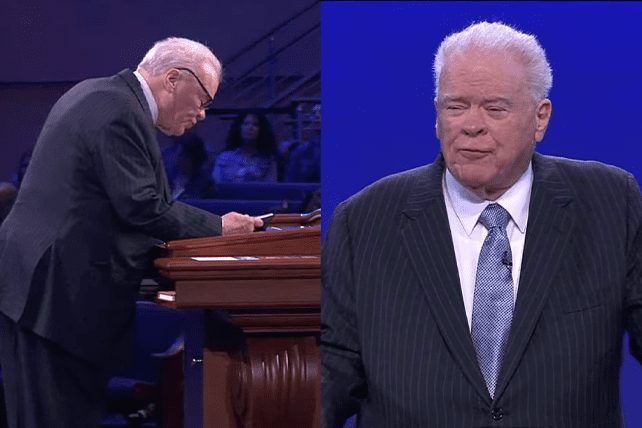 On Sunday (May 29), First Baptist Dallas, a Texas megachurch pastored by former Trump faith advisor Robert Jeffress, played host to a controversial guest speaker. Paige Patterson, a formerly influential SBC leader who has been implicated in mishandling sexual abuse allegations within the denomination, delivered a message titled "The Phenomenal Disappearance of this Command of Christ."
An SBC icon for decades, Patterson was one of the architects of the "Conservative Resurgence" within the denomination, serving as SBC president from 1998 to 2000. He was president of Southeastern Baptist Theological Seminary (SEBTS) from 1992 to 2003, going on to serve as president of Southwestern Baptist Theological Seminary (SWBTS) until 2018.
Patterson was removed from his role at SWBTS for failure to report credible allegations of sexual assault on female students at the school, writing in one email in 2015 that he intended to meet alone with one female survivor so that he could "break her down." 
Patterson was also implicated in covering up the sexual abuse of fellow Conservative Resurgence leader, Paul Pressler, in 2018.
RELATED: How the 'Apocalyptic' Southern Baptist Report Almost Didn't Happen
In the recently released Guidepost Solutions report regarding the handling of sexual abuse allegations in the SBC from 2000 to 2021, Patterson was characterized as obstinate, refusing to cooperate with Guidepost investigators or yield documents from his time as SBC president that would have been pertinent to the investigation. 
Following the report's release, SEBTS president Danny Akin expressed his intention to have the school remove Patterson's name from facilities and other elements of campus life at SEBTS. 
Prior to his tenure as president of SEBTS, Patterson had served as president of Criswell College, founded by longtime pastor of First Baptist Dallas and another Conservative Resurgence leader, W.A. Criswell.  
Jeffress introduced Patterson with high praise, noting his role in the Conservative Resurgence and calling him "God's preacher for the hour." 
Preaching from Matthew 9:35-38, Patterson talked about evangelism motivated by compassion and prayer.
RELATED: SBC Executive Committee Sets up Hotline for Abuse Claims
"I wonder what kind of compassion we genuinely have for lost people," Patterson said. "Do we care that the person we sit next to, the person that we shop with, do we care that they're going to spend eternity—many of them—separated from God?"