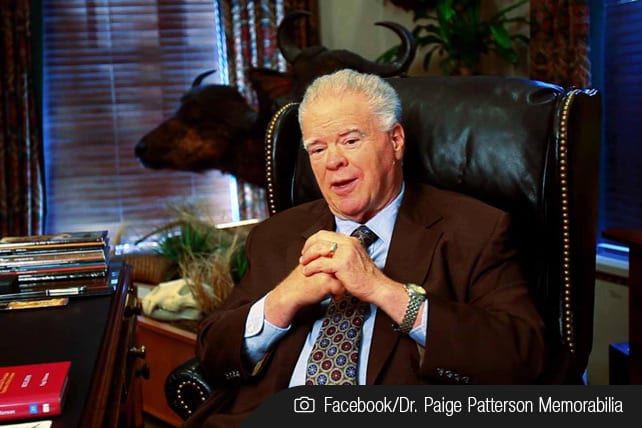 Update June 5, 2018
This morning, Baptist Press published an article with a statement released by Paige Patterson's personal attorney, Shelby Sharpe. In Sharpe's lengthy statement, Sharpe outlines how the information relating to Patterson has been mishandled. His aim with the statement is "to straighten out erroneous statements that are in" a June 1 statement released by Southwestern trustee chair Kevin Ueckert (the summary of which you can read below). Sharpe indicates a request has been sent to Southeastern Baptist Theological Seminary to pursue a path of reconciliation between that organization and Patterson via Peacemakers Ministries.
In response, SEBTS has also released a statement indicating they have not yet received a request from Peacemakers Ministries and that their internal review of the allegations relating to Patterson while on their staff "is not complete because SEBTS is not in possession of documents deemed as being owned by the seminary."
---
Update June 4, 2018
The Chairman of the Board of Southwestern Baptist Theological Seminary (SWBTS) has issued an additional statement following social media reports of an incident at Southeastern Baptist Theological Seminary (SEBTS) that led to the dismissal of Dr. Paige Patterson as president of SWBTS.
Kevin Ueckert wrote, "We confirmed this week through a student record, made available to me with permission, that an allegation of rape was indeed made by a female student at Southeastern Baptist Theological Seminary in 2003. This information contradicts a statement previously provided by Dr. Patterson in response to a direct question by a Board member regarding the incident referenced in our May 30 statement. The 2003 rape allegation was never reported to local law enforcement. SWBTS will not release the student record to the public without additional appropriate permissions."
"In addition, as previously disclosed, a female student at SWBTS reported to Dr. Patterson that she had been raped in 2015.  Police were notified of that report. But in connection with that allegation of rape, Dr. Patterson sent an email (the contents of which were shared with the Board on May 22) to the Chief of Campus Security in which Dr. Patterson discussed meeting with the student alone so that he could "break her down" and that he preferred no officials be present. The attitude expressed by Dr. Patterson in that email is antithetical to the core values of our faith and to SWBTS. Moreover, the correlation between what has been reported and also revealed in the student record regarding the 2003 allegation at Southeastern and the contents of this email are undeniable."
---
The saga of Paige Patterson and Southwestern Baptist Theological Seminary has taken another turn—perhaps its last.
Patterson has been terminated "effective immediately," according to a statement released Wednesday evening by the school.
In addition to losing his status as "president emeritus" at SWBTS, the board's executive committee also stripped Patterson of all "benefits, rights and privileges." Those privileges included a house on campus that is under construction and the title of theologian-in-residence with compensation. The position and benefits were granted to Patterson just a week ago.
The decision, according to the statement, was based on "new information confirmed this morning…regarding the handling of an allegation of sexual abuse against a student during Dr. Paige Patterson's presidency at another institution and resulting issues connected with statements to the Board of Trustees that are inconsistent with SWBTS's biblically informed core values."
The "other" school was Southeastern Baptist Theological Seminary in Wake Forest, N.C. Patterson was its president from 1992 to 2003.
Last Tuesday, a former SEBTS graduate student told The Washington Post that after she reported to Patterson and fellow seminary officials in 2003 that she had been raped on campus, they failed to notify authorities and the former president encouraged her to forgive the perpetrator. Patterson did not respond to the claims, but SEBTS launched an internal review of its own.
Patterson has been under fire for weeks, including calls for his dismissal, over his past counsel and statements regarding women, abuse and divorce.
The announcement was followed by tweets from a host of Southern Baptist officials.
Today I will pray for @swbts, their trustees, faculty, staff & students. I will pray for @_PPatterson_ & @_DKPatterson_ . I will ask God to flood all with grace, mercy & wisdom. I will ask Him to work all things together for good. That is what I will do.

— Daniel Akin (@DannyAkin) May 31, 2018
Had some good friends who kept me from tweeting some things tonight. They don't want to be named, but they know who they are… and they were right.

— Ed Stetzer (@edstetzer) May 31, 2018
The statement from the Executive Committee said it took the action without a vote in a regular meeting of the board because "the information demanded immediate action."