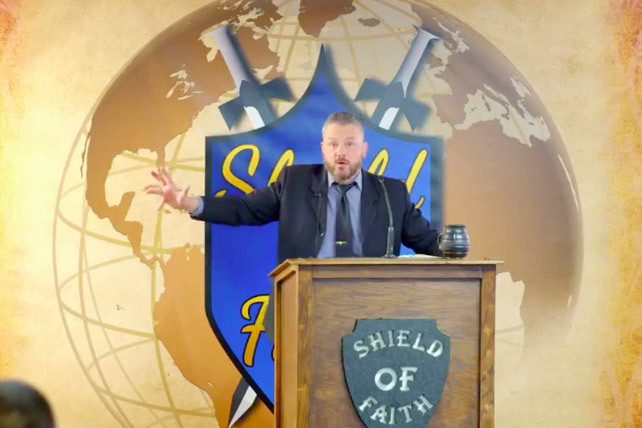 In Idaho, anti-LGBTQ rhetoric and actions have been on the rise, and some people say a Boise pastor is contributing to it. During recent sermons, posted to YouTube and Facebook Live, Joe Jones refers to gay people as "Sodomites" and says they're "reptilian" and "reprobate."
Last month, Jones, pastor of Shield of Faith Baptist Church, preached that "when [gay people] die, that stops the pedophilia." But he denies accusations that he's advocating for his church members to kill homosexuals. "It is the government's job to rid the country…of wicked evildoers," Jones clarifies.
As ChurchLeaders has reported, a Texas pastor recently called for gay people to be executed by being "shot in the back of the head."
Because Idaho's Code for Malicious Harassment doesn't include protections for sexual orientation or gender identity, Boise police say Jones' words can't be categorized as criminal hate speech.
Joe Jones: Gay People Aren't Welcome
Joe Jones says gay people are not welcome at Shield of Faith, a congregation of about 50 people. "I don't care if you're bi, I don't care if you're tri. I don't care if you're quasi. I don't care what you are," he says in a recent sermon. "Stop emailing, stop texting and asking if you can come to the church because the answer is no." To prevent gay people from entering or joining Shield of Faith, he says they are carefully "screened."
When clips of Jones' sermons recently went viral on TikTok, he called the video's creator a "whiny little person" who "chopped and spliced" his words. Jones insists his church is "about soul-winning," adding that it's important "we don't waste time on people who can't hear the truth." Sodom and Gomorrah serve as important examples and warnings for Christians today, he says.
In an interview with TV station CBS2, Jones says, "If Jesus was in charge of this nation, if he was the king and our leaders reported directly to him, we would not have a Pride Month. There would be no Sodomites. He would have them removed from the land." He also expresses approval of England's 16th-century Buggery Acts, which allowed the execution of homosexuals.
But Jones says his congregants shouldn't physically harm anyone. Murder is "unlawful in this country," he says. "We don't condone [hate crimes]. You wouldn't be able to attend this church if you were out doing stuff like that."
Anti-Gay Rhetoric Has Escalated During Pride Month
Last weekend, 31 men were arrested for allegedly conspiring to riot at a Pride event in Coeur d'Alene, Idaho. Officials say the men have ties to Patriot Front, a white supremacy group.