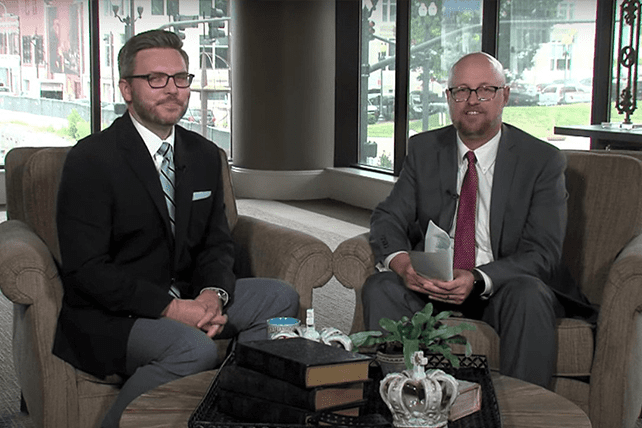 NASHVILLE (BP)— The work of Southern Baptist state conventions can be vital in the adoption of pro-life laws after the reversal of Roe v. Wade, the acting head of the SBC's ethics entity said Wednesday (July 13) in a BP Live webcast.
The online event, hosted by Baptist Press, focused on decisions regarding abortion and religious freedom issued by the U.S. Supreme Court in its recently completed term. Much of the conversation addressed Dobbs v. Jackson Women's Health Organization, a June 24 opinion that upheld a Mississippi ban on abortion after 15 weeks' gestation. More significantly, the decision overruled the 1973 Roe v. Wade decision that legalized abortion nationwide and the 1992 Planned Parenthood v. Casey opinion that affirmed it.
The high court's watershed judgment returned the regulation of abortion to the states, where it had rested before Roe.
"I think in this new post-Roe moment that we find ourselves in our state conventions play a pivotal role in making sure that policies to protect preborn lives are advanced," said Brent Leatherwood, acting president of the Ethics & Religious Liberty Commission (ERLC).
"[O]ne of the best conduits for action" by Southern Baptists is through their state conventions, said Leatherwood, who encouraged communication by pastors with their Baptist state leaders.
The ERLC wants to partner with Baptist state conventions to make certain" they have the resources and the equipping that they need to be effective advocates in front of state legislators," Leatherwood told moderator Jonathan Howe, the SBC Executive Committee's vice president for communications.
Nearly half of the 50 states already have laws prohibiting abortion either throughout pregnancy or at some stage of pregnancy, but some state legislatures will continue to debate policies.
"[F]irst and foremost, [Southern Baptists] need to keep praying, and we need to keep being a voice for the sanctity of life in every state, because as more states take these measures and put in place policies to protect life, other states will see and feel that pressure to do the same and recognize the inherent dignity of preborn lives," Leatherwood said.
The Dobbs decision "is actually setting aright things in terms of the question of abortion," but the ERLC is "not content with where we are," he told viewers. "We want to continue pressing the case for life in each of the individual states, as well as at the federal level, because we do believe that there is actually an inherent right to life and it's contained" in the U.S. Constitution.
"We obviously celebrate this milestone, but our work is far from over," Leatherwood said. "The Dobbs decision is essentially opening a new chapter in the pro-life movement, and we're committed to doing that alongside our Southern Baptist churches."
The ERLC's pro-life work will focus increasingly on the state level, but the entity will also maintain its advocacy with the federal government in Washington, D.C., he said.
In addition to seeking pro-life protections in state laws, Southern Baptists and their churches can continue to minister to women who are abortion-minded, Leatherwood told Howe. Churches are partnering with the Psalm 139 Project, the ERLC's ministry to place ultrasound machines in pregnancy resource centers (PRCs), and providing for the needs of pregnant women, he said. Some churches are now adopting or starting PRCs, and some small groups are basically adopting pregnant women to meet their physical, spiritual and community needs, he added.