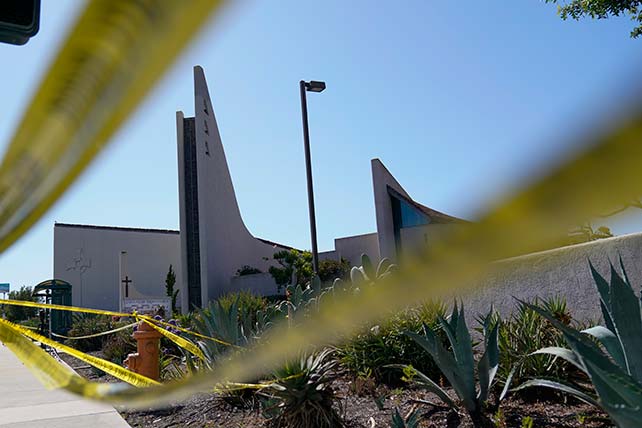 LOS ANGELES (AP) — The Rev. Steven Marsh never thought he would see the day his church in Laguna Woods, California — a town of 16,500 populated largely by retirees — would be spending $20,000 a month for security.
Then a gunman opened fire on May 15 during a luncheon at Geneva Presbyterian Church, where Marsh is senior pastor, killing one and injuring five other members of a Taiwanese congregation that met there. Officials said the man, who was motivated by political hatred against Taiwan, chained the church's doors shut and hid firebombs inside before shooting at the gathering of elderly church members.
Houses of worship are meant to be places of shelter, reflection and peace, where strangers are welcome. But the recent string of high-profile mass shootings in the U.S. is a reminder violence can happen anywhere, prompting some faith leaders to ramp up security.
At Geneva Presbyterian, armed security guards now stand watch every weekday and during Sunday services. The church also is adding more security cameras, developing an active shooter plan and applying for Department of Homeland Security funding.
RELATED: Should Church Security Teams Carry Weapons? Ed Stetzer Asks and the Responses Might Surprise You
"We're not trying to militarize the church," Marsh said. "We prayed about it and made a decision to have armed security as an act of faith."
Without the new security measures, Marsh predicted that a mass exodus by the congregation and the schools on the church's campus would have followed the shooting.
Creating a space that is both safe and welcoming is possible, said Rabbi Charlie Cytron-Walker, the former spiritual leader of Congregation Beth Israel in Colleyville, Texas.
In January, he and three others were taken hostage by a pistol-wielding man during a Shabbat service. Cytron-Walker threw a chair at the gunman — a courageous act that helped them safely escape — after a nearly 11-hour standoff. He credits the several rounds of active shooter training he has taken.
"When you are unable to run away or find a hiding place, you need to find a way to act and to fight back," Cytron-Walker said. "When we were most afraid he was going to kill us, I saw a moment I had been looking for all day long."
RELATED: Suspect in California Church Shooting Accused of Hate Crime
Cytron-Walker now leads Temple Emanuel in Winston-Salem, North Carolina. As he works on a security plan with his new congregation, he is being mindful of how a welcoming synagogue can enhance safety "because someone who wants to do harm can see that they are not going to be able to walk in anonymous."