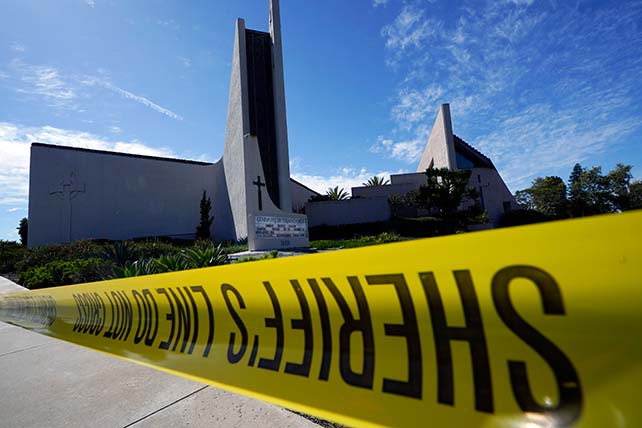 On Sunday (May 15), a man walked into Geneva Presbyterian Church in Laguna Woods, California, where a Taiwanese congregation has met for 10 years, and opened fire. The gunman killed one person and injured five others, all of whom were senior citizens.
More lives could had been lost if it weren't for the church's former pastor Zhang Xuanxin (Billy Chang) who reportedly took a chair and hit the gunman from behind while he was attempting to reload his gun. According to reports, churchgoers then jumped on the gunman, disarmed him, and hogtied him with an extension cord to subdue him until authorities could arrive.
Orange County Sheriff's Department's Jeff Hallock told the media, "It's safe to say that if people had not intervened, it could have been much worse."
RELATED: Teenage Gunman Apprehended by Church Attenders After Attempting to Steal Offering Plate

Chang, who is now pastoring in Taiwan, had returned to the church he previously pastored for 21-years in Southern California to visit the congregation for a worship service and luncheon. The church was holding its first after-service meal since the beginning of the COVID-19 pandemic in order to honor Chang.
The fatal shooting took place around 1:26 p.m. during the meal, not far from a community known for its elderly population, especially those from Taiwan, China, and Hong Kong.
Reports shared that the gunman, an Asian man who has been identified as a 68-year-old from Las Vegas, used two handguns to carry out the deadly assault. Authorities report they also found a knife on the suspect.
The gunman, whom no one in the congregation recognized, opened fire while church members were taking pictures with their former pastor.
Church congregant Jerry Chen shared that shortly after he stepped into the church's kitchen, he heard gunshots and screaming.
"I knew someone was shooting," Chen said. "I was very, very scared. I ran out the kitchen door to call 9-1-1."
Chen explained that he was in such shock that he had to "ask someone else for the address" when he called 9-1-1. "It was amazing how brave [the pastor] and the others were. This is just so sad. I never, ever thought something like this would happen in my church, in my community," Chen said.
The church, called The Irvine Taiwanese Presbyterian Church, has around 100 members, mostly senior citizens, who worship in their native Taiwanese language.
The victims were between the ages of 66 and 92.
California Governor Gavin Newsom's office tweeted about the shooting, saying that they are monitoring the investigation and working closely with local authorities.
"No one should have to fear going to their place of worship," the statement said. "Our thoughts are with the victims, community, and all those impacted by this tragic event."
RELATED: Bullets Interrupt Woman Sharing Gospel on Facebook Live
A day after the shooting, pastor and author Duke Kwon said, "Everything about the scene prior to the shooting—seniors gathered for a teriyaki lunch to honor a former sr. pastor now planting a church overseas, with a 40yo son in attendance with his mom—is something I can 100% picture taking place at my parents' church only a few miles away."