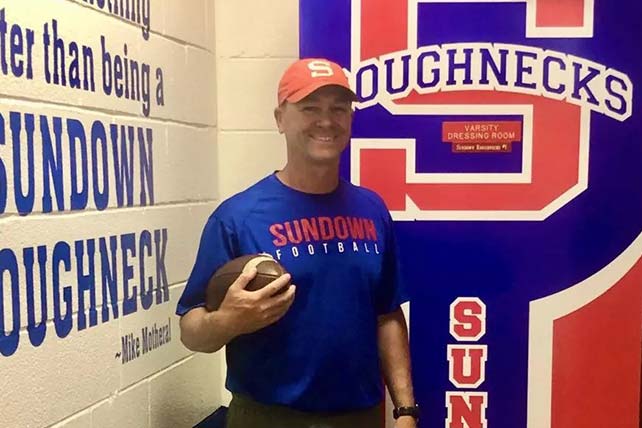 SUNDOWN, Texas (BP) – Brannon Rodgers knows well how bright the lights burn over football fields in the Texas panhandle. They shine on teenagers barely old enough to drive as the main players on a stage, a stage that even in the smallest of towns, on Friday nights feels like the center of the world.
Rodgers experienced it as a quarterback and safety for the Petersburg High Buffaloes, where his dad, Steve, was defensive coordinator. Now a veteran coach himself, Rodgers has only recently begun to fully appreciate another aspect of the game he loves.
Coaches do more than coach. They are role models and parental figures. In motivating young athletes, a coach can't turn off where he or she gets their sense of right and wrong, honor and thankfulness. The motivation to press on not only points toward the end zone, but a goal of eternal value.
RELATED: Supreme Court Sides With Coach Who Sought to Pray After Game
Those truths are why he paid close attention to the recent Supreme Court decision of Kennedy v. Bremerton School District.
By a 6-3 margin, justices said that the school district violated the First Amendment rights of Joseph Kennedy, a football coach in Washington state, by removing him from his position after he refused to stop praying at midfield following games. Kennedy began the practice on his own as a way of expressing thanks to God for the opportunity to coach, but eventually athletes chose to join him.
"The case caught my attention from the beginning," said Rodgers, who recently took the head coaching position at Sundown High School after five seasons at Jacksboro High, 52 miles northwest of Fort Worth.
Rodgers is a south plains guy with roots throughout the Lubbock area. Before going to Jacksboro, he coached for 11 seasons in Crosbyton, 35 miles southeast of Petersburg. A drive between them takes you through Floydada, his wife Misty's hometown.
No masks
His head coach as a player, Joe Robertson, walked the sidelines with Steve Rodgers at Petersburg for well over 20 years. Their own Christian walk knew no boundary, however.
"They lived their lives in the field house, on the football field and in the community the same way," Rodgers told Baptist Press. "They didn't take off their Christian mask and put on their coaching hat. They led by example. We prayed before, after and during games. It was part of our fabric."
Around Gadsden, Ala., the coaching influence of Charles and Kim Nails has spread across generations. Now at Southside High, they spent the majority of their careers with Gadsden High School – he as defensive coordinator for the football team and she as girls basketball coach. In between, Kim spent seven years as women's basketball coach at Gadsden State Community College. Her husband has always been a common presence as an unofficial assistant on the bench.
RELATED: Lakers' New Coach Darvin Ham Praises God During Press Conference; Credits Christian Upbringing
Charles was lured out of coaching retirement at Southside in 2011 to help with the Panthers' program. He and Kim both stepped down from football and basketball after the recent season, though Kim will continue coaching cross country.