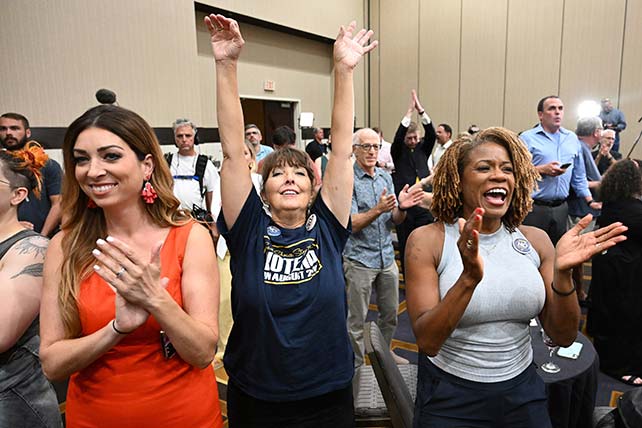 TOPEKA, Kan. (AP) — Kansas voters on Tuesday sent a resounding message about their desire to protect abortion rights, rejecting a ballot measure in a conservative state with deep ties to the anti-abortion movement that would have allowed the Republican-controlled Legislature to tighten restrictions or ban the procedure outright.
It was the first test of voter sentiment after the U.S. Supreme Court's decision in June that overturned the constitutional right to abortion, providing an unexpected result with potential implications for the coming midterm elections.
While it was just one state, the heavy turnout for an August primary that typically favors Republicans was a major victory for abortion rights advocates. With most of the vote counted, they were prevailing by roughly 20 percentage points, with the turnout approaching what's typical for a fall election for governor.
RELATED: Kansas First State To Vote on Abortion Since Roe's Demise
The vote also provided a dash of hope for Democrats nationwide grasping for a game-changer during an election year otherwise filled with dark omens for their prospects in November.
"This vote makes clear what we know: the majority of Americans agree that women should have access to abortion and should have the right to make their own health care decisions," President Joe Biden said in a statement.
After calling on Congress to "restore the protections of Roe" in federal law, Biden added, "And, the American people must continue to use their voices to protect the right to women's health care, including abortion."
The Kansas vote also provided a warning to Republicans who had celebrated the Supreme Court ruling and were moving swiftly with abortion bans or near-bans in nearly half the states.
RELATED: BREAKING: Supreme Court Overturns Roe
"Kansans bluntly rejected anti-abortion politicians' attempts at creating a reproductive police state," said Kimberly Inez McGuire, executive director of Unite for Reproductive & Gender Equity. "Today's vote was a powerful rebuke and a promise of the mounting resistance."
The proposed amendment to the Kansas Constitution would have added language stating that it does not grant the right to abortion. A 2019 state Supreme Court decision declared that access to abortion is a "fundamental" right under the state's Bill of Rights, preventing a ban and potentially thwarting legislative efforts to enact new restrictions.
The referendum was closely watched as a barometer of liberal and moderate voters' anger over the Supreme Court's ruling scrapping the nationwide right to abortion. In Kansas, abortion opponents wouldn't say what legislation they'd pursue if the amendment were passed and bristled when opponents predicted it would lead to a ban.