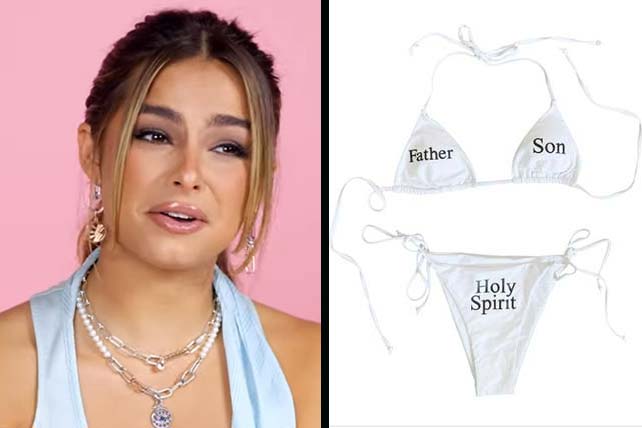 TikTok star Addison Rae, who has stated that she believes in Jesus Christ and grew up in a Christian household, deleted a recent photo of herself in a skimpy bikini after receiving backlash from Christians who follow her.
The problem wasn't so much that the bikini was "teenie tiny," but that it had the names of the persons of the Trinity—Father, Son, and Holy Spirit—inscribed on it.
The swimwear is being sold for $100.00 by a brand called "Praying," which collaborated with Adidas to create the Christian-themed suit.
RELATED: Sadie Robertson Huff on Modesty: Christian Culture Makes It 'Hard To Talk About'
It only takes a quick glance at the "Praying" brand's Instagram to realize that the brand isn't an advocate for modesty. "The devil isn't even in disguise anymore," a posted comment on their page reads.
Rae's photo showed her in the bikini top, which features the words "Father" and "Son." The 21-year-old's photo was quickly met with critical comments claiming that her attire was blasphemous.
"This is not okay! BLASPHEMY!" one person's comment read before Rae deleted her post.
RELATED: Pastor Trends on Twitter After Modesty Post Causes a Total Meltdown
Another wrote, "Is nobody gonna talk about this disrespecting religions." Someone else agreed, writing, "If Addison Rae was mocking any other religion she'd be trending and getting cancelled right now. But since it's Christianity…"
"Nah this disrespectful to Jesus. Sad what y'all do for money," one person wrote.
Although Rae deleted the post, that didn't stop people reposting captured images of the influencer while making comments like, "All I'm going to say is—these people are going to learn the hard way not to play with GOD. Just wait and watch."
RELATED: Youth Pastor's Swimsuit Apology Goes Viral
Pop sensation Christina Aguilera wore the same swimsuit a week ago in a French language version and posted as the caption, "A religious experience." That post received nearly 160,000 likes.
Rae has over 4.9 million followers on Instagram and 88.5 million followers on TikTok. She regularly post pictures of herself in swimsuit attire, many of which are bikinis.