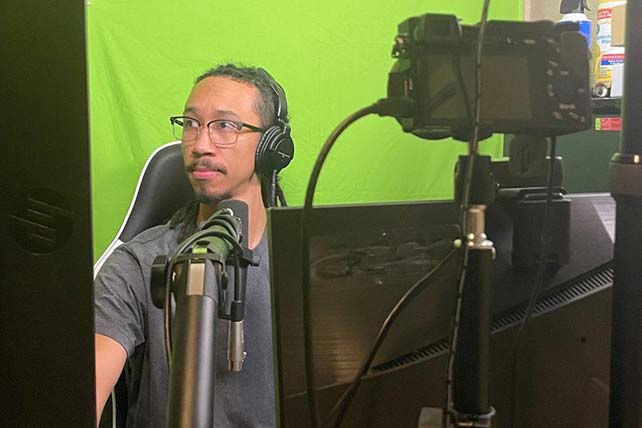 CLAREMORE, Okla. (BP) – For Joshua Clayton, talking to people about Jesus has always been a part of who he is, even while playing video games or creating online content.
He now uses these two passions together in his new role as "online missionary," at Claremore First Baptist in Okla.
Clayton began livestreaming his video game play during the COVID-19 pandemic in 2020. Broadcasting the content was initially an attempt to earn extra income to pay for his wife's unexpected medical bills.
After several months of livestreaming video game content, Clayton garnered more than 40,000 followers across a variety of social media including Facebook, YouTube, Tik Tok, Twitch and Discord.
RELATED: Top Kid-friendly Video Games of 2019
He soon began averaging up to 10,000 views per video and reaching viewers from dozens of countries.
While he livestreams playing the games (typically sports games such as NBA2K or NCAA Football 2014), Clayton is able to communicate with viewers as they post comments that appear on the side of the screen as he is playing.
These conversations can often turn serious, and Clayton simply says what comes naturally.
"I started making content for the purpose of taking care of my family, not to tell people about Jesus, but telling people about Jesus is just what I do and who I am," Clayton said.
"You put me working out in a field or in the oil industry or whatever, I'm going to find a way to talk about Jesus. A large part of what I'm doing now as an online missionary is stuff that I've been doing since as early as high school. I use the forum of online gaming to meet people, talk and build relationships. I use opportunities like that to tell people about Jesus."
RELATED: Here's What You Need to Know About Boys and Violent Video Games
Claremore First Baptist noticed the impact Clayton was making and reached out to him about joining the church staff in a unique position to help bolster its online influence during the pandemic.
In the position, Clayton simply continues what he has been doing on his previous gaming channels, while also hosting an apologetics-type bible study every week called "Unseen Hope" on behalf of the church.
He also helps with the church's tech and media teams and helps oversee its social media accounts.
Keith Wiginton, senior pastor at Claremore, said he came across Clayton's content while watching videos with his son.
Clayton had previously served as an intern at the church, and his wife is the daughter of one of the church's staff members.
RELATED: Evangelist's Casual Conversation With Stranger Leads to Beach Baptism Moments Later
Although the position might be unconventional, Wiginton said there is a great need for online ministry.
"There may be a generation gap in understanding," Wiginton said, "but to a younger generation, watching someone play video games is just the same as watching a football game is to my generation. It's just entertainment.
"We knew Josh and realized he had thousands of followers and that he was getting to have Gospel conversations with people online almost every week. We thought, 'How many missionaries would we have to send and how much money would it cost to reach all the different people that he does?' We saw there was a need and thought it was worth it to try and support him."
A self-described natural extrovert, Clayton said Southern Baptist seminary training helped him be better prepared for the serious Gospel encounters he has online.
He graduated from Southwestern Baptist Theological Seminary with an M.Div. focused in biblical counseling, and was a doctoral student at Midwestern Seminary while also working full-time on the campus.