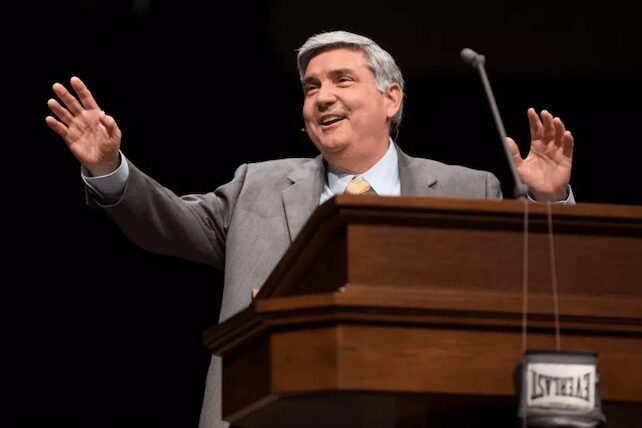 FORT WORTH (BP) – A longtime professor at Southwestern Baptist Theological Seminary has announced his resignation, according to a seminary statement. David Allen, Distinguished Professor of Preaching and Director of the Center for Expository Preaching will make July 31 his last day on faculty.
In a statement, the seminary said it was "disappointed" Allen rejected the role of Senior Professor as he planned to return from sabbatical in the fall semester.
Allen said in a July 28 Facebook post that Adam W. Greenway, seminary president, had let him know in an April 22 email "that his full-time faculty position would be eliminated at the end of July. Greenway advised Allen further that his employment status had been unilaterally designated for retirement with the title of 'Senior Professor'."
In the release on Allen's page it says, "On May 28th, Allen informed Dr. Greenway and the SWBTS's Board of Trustees in a nine-page letter that he had no intention to retire or resign from his Distinguished Professorship at the Fort Worth, Texas seminary."
However, the seminary says Allen offered a "de facto letter of resignation" to Greenway before a special-called meeting of the board of trustees on June 3.
The seminary also took exception to Allen's referral of the role of senior professor as a retirement post, "Contrary to Dr. Allen's portrayal, the role of Senior Professor is a position of honor for faculty members who have served a significant period of time in their roles. At Southwestern Seminary, this position is held by individuals like Craig Blaising, Jack Terry, Ken Hemphill, Dan Crawford, and more. It is unfortunate that Dr. Allen suggests that the service these men continue to render to Southwestern Seminary is second-class service."
Allen had been on staff at the seminary since 2004, according to his website. He had previously served at the dean of the school of theology and held the George W. Truett Chair of Pastoral Ministry. Before his time at SWBTS, he had served as the W. A. Criswell Chair of Preaching at Criswell College and had pastored churches in Texas. He also has been an active interim pastor over the years.