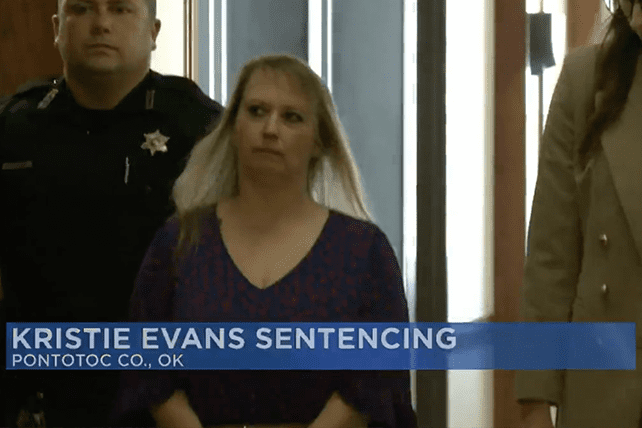 Oklahoma woman Kristie Evans has been sentenced to life in prison for the first-degree murder of her husband. David Evans, pastor of Harmony Church in Ada, Oklahoma, had sexually abused Kristie for years, forcing her to have sex with between 50 to 100 men. 
The triggerman, who shot David Evans while he slept, was Kristie's secret lover, 27-year-old Kahill Deamie Square, whom Kristie "begged" to shoot her husband so that she could escape the abusive relationship.
Square has also been charged with first-degree murder. His next court date is August 25. 
Evans had first met Square in January 2021, when her husband arranged for the three to meet at a motel for a sexual encounter. The three met more than once. At one such meet-up, Evans slipped Square her phone number, and the two began a secret relationship. 
RELATED: Pastor Murdered by Wife After Years of Forcing Her To Have Sex With 50 to 100 Men; Sentencing Underway
While David Evans was in Mexico for a missions trip in March 2021, Kristie and Square hatched a plan to murder him at Kristie's behest. They carried out the murder on the evening of Sunday, March 21, 2021. 
Evans later turned herself into police, citing immense guilt and a desire to "get right with God," and she pleaded guilty to first-degree murder. 
During the sentencing hearing, Evans' daughter, Brittney Long, spoke on her mother's behalf, saying, "I think my mom already has served her time. She spent 30 years living with my dad." 
Long also recounted her mother telling her, "Even if I spend the rest of my life behind bars, I'll be more free than I was with your dad."
Evans' attorney, Joi Miskel, had been seeking a split sentence consisting of four years of jail time followed by lifetime probation.
"She is not a danger to society," Miskel said.
Miskel had cited Evans' remorse for the murder to reporters, adding, "You have to understand that she has suffered for years and years this horrific abuse. You don't just shake that off in a matter of days, months, weeks or even years. And you have to think she still has had no kind of counseling, any kind of therapy, to work through these issues of decades of abuse."
Prosecutors, on the other hand, asked the judge to impose a life sentence without the possibility of parole, saying, "She had options. She chose the worst one." 
In the end, Pontotoc County District Judge Steven Kessinger sided with prosecution, giving Evans a life sentence. 
"As you testified," Kessinger told Evans at sentencing, "actions have consequences."
Citing the sexually explicit letters Evans had written to Square while in jail, Kessinger expressed his belief that Evans' remorse was "newly found." 
At one point during the sentencing hearing, prosecutors told Evans that she was a very good liar. She replied, "Yes, I've lived a whole 30 years with a mask on my face."
RELATED: 'We Still Believe In Dad's Innocence'—Ravi Zacharias' Son Continues To Defend Father

Evans will be eligible for parole in 2060. She will be approximately 87 years old.