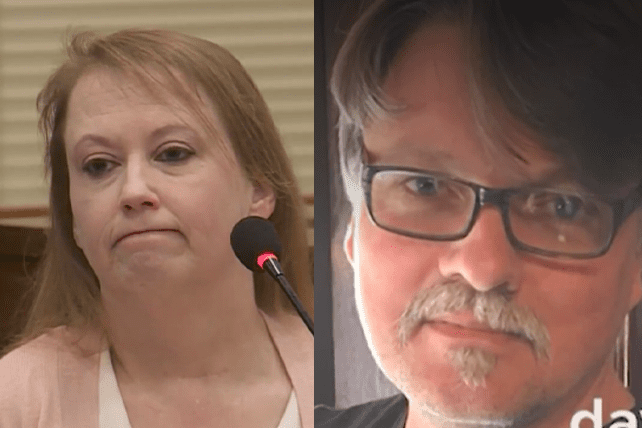 Sentencing is underway for Oklahoma woman Kristie Evans, who pleaded guilty to the first-degree murder of her husband, pastor David Evans. According to Kristie, the pastor had emotionally, physically, and sexually abused her for years, forcing her to have sexual encounters with between 50 to 100 men.
David Evans, 50, was shot while sleeping in his bed on March 22, 2021, by 27-year-old Kahill Deamie Square, who was Kristie Evans' secret lover. Evans admitted that she "begged" Square to shoot her husband. The murder weapon was David Evans' own gun, which Kristie had placed outside her home's unlocked backdoor for Square to use.
RELATED: Woman Sentenced to Life for Murder of Pastor Husband Who Sexually Abused Her
Earlier that day, David Evans preached a sermon at Harmony Church in Ada, Oklahoma, about spiritual warfare. 
"Who's believing in Jesus because of us?" he said in that sermon. "And if we're doing anything in that direction, expect for the enemy to come to destroy you. So don't be shocked and start whining and crying. Expect it. Be prepared for it. If the devil is not attacking you, there is a reason. If the devil is attacking you, there is a reason."
RELATED: Roger Stone Raises Money for 'God-Fearing Christian' Alex Jones
David had returned from a mission trip to Mexico earlier that week. 
Kristie Evans called the police after Square fled the couple's home following the shooting. She later turned herself in to police and confessed to the murder, due to the guilt she felt and to "get right with God." 
Evans is facing a maximum sentence of life without the possibility of parole, though her attorney is requesting that part or all of her sentence be suspended.
Evans' Story of Sexual Abuse
According to Evans, her husband was addicted to sex and pornography, and had for years routinely arranged for the two to have sexual encounters with other men. She said these types of encounters first began when the couple were at a clothing optional resort in Texas. Evans recounted that she came back to their resort room to find her husband and another man naked, waiting for her. 
"I didn't feel like I had an option to say no," she said.
This occurred while David Evans was pastor at Harmony Church in Ada. 
After that encounter, Evans said that the couple would routinely meet up with men in rented rooms in the cities of Moore, Norman, and Oklahoma City. They met between 50 and 100 men, and Evans recalled twice when they met with another couple. 
"I just felt like a piece of property. I wasn't valued," Evans testified.
Evans met Square at one such encounter in January 2021 after her husband arranged a threesome at a Super 8. The three met up more than once, and at one of their meet-ups, Evans slipped Square her phone number. Evans testified that she enjoyed the attention Square gave her, which stood in contrast to her husband's physical and verbal abuse, and the two began a secret relationship. 
RELATED: SBC President Bart Barber Names Abuse Task Force Members
Evans said that she had considered divorcing her husband, but felt she had no option to leave. If she were to go into hiding, she would lose her job, and thereby health insurance, which would result in her being unable to afford medication made necessary by a kidney transplant.