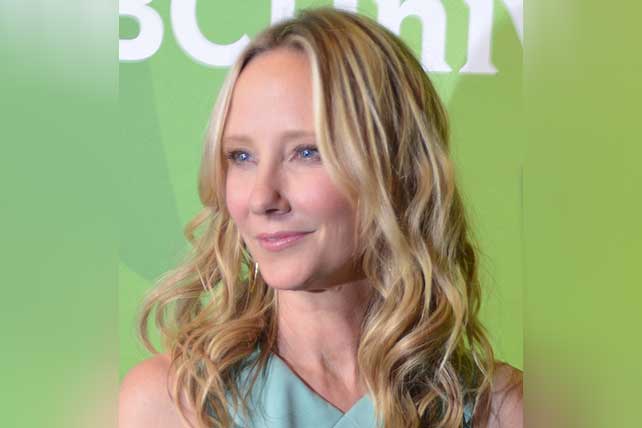 Anne Heche, the 53-year-old actress known for co-starring alongside Harrison Ford in the film "Six Days Seven Nights," has died after suffering injuries from a car crash on August 5.
Heche had been in a coma after suffering an anoxic brain injury (wherein oxygen is cut off from the brain) after crashing her Mini Cooper Clubman into a Los Angeles home. The crash sparked a fire that not only cause major damage to the car but also the house. Although Heche was rescued less than an hour after the crash, she never left the hospital's burn unit, having suffered smoke inhalation and severe burns.
Law officials, who are still awaiting the actresses toxicology report, believe she was under the influence at the time of the crash.
Substance abuse had plagued Heche's life throughout most of her career. In 2000, she walked into a stranger's home and asked to take a shower while high on ecstasy. After the homeowner called the authorities, Heche told police that she was "God, and was going to take everyone back to heaven in a spaceship."
RELATED: Self-Proclaimed Prophet, Former Global Fire Ministries' Leader Jeff Jansen Unexpectedly Dead at 60
Heche is survived by two children, ages 20 and 13, one of which she shares with her husband James Tupper.
"Today we lost a bright light, a kind and most joyful soul, a loving mother, and a loyal friend," the family said in a statement. "Anne will be deeply missed but she lives on through her beautiful sons, her iconic body of work, and her passionate advocacy. Her bravery for always standing in her truth, spreading her message of love and acceptance, will continue to have a lasting impact."
"My brother Atlas and I lost our Mom," her oldest son told People. "After six days of almost unbelievable emotional swings, I am left with a deep, wordless sadness. Hopefully my mom is free from pain and beginning to explore what I like to imagine as her eternal freedom. Over those six days, thousands of friends, family, and fans made their hearts known to me. I am grateful for their love, as I am for the support of my Dad, Coley, and my stepmom Alexi who continue to be my rock during this time. Rest In Peace Mom, I love you."
According to California law, although Heche's heart is still beating, she is legally dead. The actress will be taken off life support after recipients for her organ donations are found.
Heche's Mother Lectured for Focus on the Family
Unbeknownst to many fans, Heche grew up in a Christian household, though not everything was always as it seemed.
Donald, Heche's father, directed the choir at church, but hid many dark secrets from his wife and Heche's mother, Nancy. Heche shared in multiple interviews that her father sexually abused her. He also was also secretly sexually promiscuous with other men.
He died from AIDS when Heche was 13 years old.