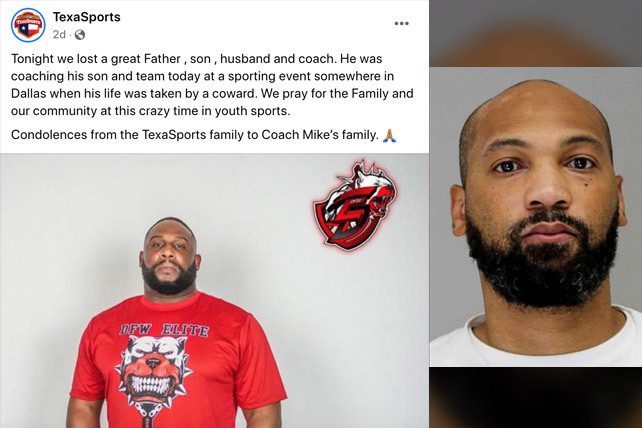 Despite their heavy hearts, worshipers praised God Sunday at Grace Temple Fellowship in Lancaster, Texas. The previous night, church member Mike Hickmon, a youth football coach, was shot and killed during a mid-game altercation.
While addressing the incident during Sunday's service, Pastor Keith Hall said, "Because of how good our God is, we can still praise him…because he knows how to take care of us. He knows how to keep us in the very midst of the storm."
Football Coach Was Killed During Little League Game
According to reports, coaches on opposing Little League football teams got involved in a physical altercation during a game. Some witnesses indicate the dispute was about a referee's call; others say Hickmon went to retrieve a football when someone kicked it away. Police continue to investigate.
After being shot, Hickmon, 43, was pronounced dead at a hospital. The alleged suspect, Yaqub Talib, initially fled the scene but later turned himself in. He now faces a first-degree murder charge. Talib's attorney, Clark Birdsall, says his client "regrets the tragic loss of life" but is eager to tell "his side of the story."
Talib is the older brother of former NFL star Aqib Talib, who has credited Yaqub with being "a real big part in my football career." The brothers are both coaches for the North Dallas United Bobcats.
Hickmon coached the 9-year-old D.E.A. Dragons, including his own son. The organization's president, Mike Freeman, says he's now "stuck" on how to explain the coach's death to players. "This is something that these kids will remember for the rest of their life," he says.
Freeman describes holding and consoling Hickmon's son after the shooting and "just letting him know that we'll be there for him."
Beloved Youth Football Coach Was a 'Gentle Giant'
Pastor Hall says "all the air was sucked out of us" by news of Hickmon's death. "People gravitated to him," he says of the coach, who was active at Grace Temple Fellowship. "They loved him…[and] he took time with them." The pastor urges people "to be praying" for the "heartbroken" family.
In a statement, Hickmon's family says they "don't see an end to our grief" right now. "We miss him immensely," they add. "We always will."
Tevar Watson, who was on a nearby field during the shooting, calls Saturday "probably the worst day of my life." He says "senseless" violence claimed his friend, who was "a standup guy" and always "there for his family."