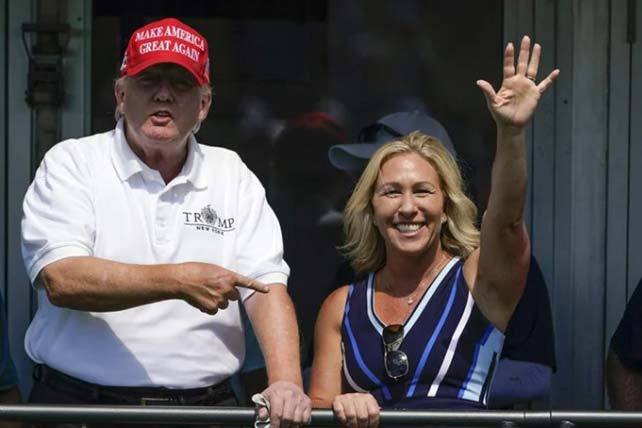 WASHINGTON (RNS) — U.S. Rep. Marjorie Taylor Greene of Georgia has spent much of the summer calling on her fellow Republicans to become the "party of Christian nationalism," even selling T-shirts emblazoned with the slogan "Proud Christian nationalist." Speaking at the Conservative Political Action Conference's meeting in Texas Aug. 5, she said the Christian nationalism label is nothing to be "ashamed" of and encouraged other members of her party to "lean in to biblical principles."
Two other Republican politicians have disputed the principle of the separation of church and state. In late June Colorado Rep. Lauren Boebert, speaking at the Cornerstone Christian Center in Basalt, Colorado, proclaimed she is "tired of the separation of church and state junk that's not in the Constitution." Pennsylvania gubernatorial candidate Doug Mastriano referred to church-state separation as a "myth" in a speech earlier this year.
Religion News Service reached out to more than 50 House and Senate Republicans seeking their response, questioning whether they support calls to make the RNC the party of Christian nationalism. The list ranged from hardline conservatives to more moderate Republicans who recently voted to codify the legalization of same-sex marriage into federal law.
RELATED: 'We Should Be Christian Nationalists': Rep. Marjorie Taylor Greene Casts Her Vision for the GOP
Two Republicans responded: Sen. James Lankford of Oklahoma and Rep. Nancy Mace of South Carolina.
Lankford, a stalwart conservative and Southern Baptist who earned a master's of divinity from Southwestern Baptist Theological Seminary and still occasionally performs marriage counseling and weddings, answered by locating the separation of church and state in the Constitution.
"I took an oath to defend the US Constitution which states, 'Congress shall make no law respecting an establishment of religion, or prohibiting the free exercise thereof,'" Lankford said in a statement. "While my personal faith is firmly in Jesus Christ, our nation protects the right of each person to choose any faith, change their faith, or have no faith. That has been true from George Washington to the present."
Mace, who attends services at Sea Coast Church in Mount Pleasant, South Carolina, also attributed the principle to the founders of the federal government.
"The Republican Party has room for anyone that believes in the fundamental principles of limited government, federalism, and keeping taxes low for all Americans," read her statement. "Our founders designed a nation that explicitly maintains the separation of Church and State, something which should continue to be a guiding principle of our Republic."
RELATED: 'Satan's Controlling the Church': Rep. Marjorie Taylor Greene Targets Catholic Leadership
A representative for Rep. Darrell Issa of California also responded, but only to convey that the spokesperson was "totally unfamiliar" with Boebert and Greene's rhetoric. When House members voted to strip Greene of committee assignments in 2021, after old social media posts showed the congresswoman espousing conspiracy theories and antisemitic and anti-Muslim ideas, Issa was one of the few lawmakers to come to her defense, arguing members should not be judged for things done before taking office.