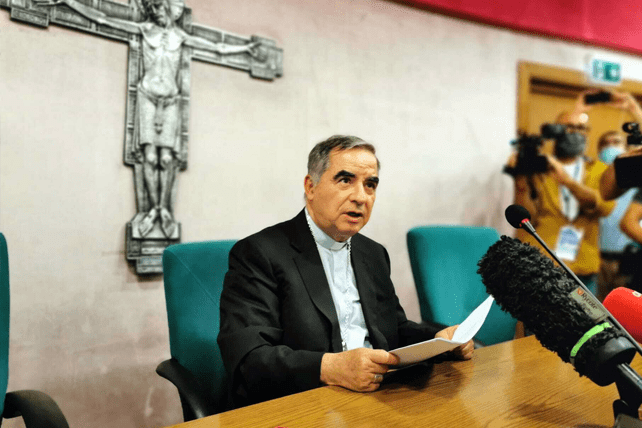 VATICAN CITY (RNS) — Cardinal Angelo Becciu, whose cardinal rights were stripped by Pope Francis in late 2020 amid Vatican financial scandals, confirmed to Italian media on Monday (Aug. 22) that the pope plans to restore his privileges and allow him to attend the upcoming summit of cardinals.
"On Saturday the pope called me to tell me that my cardinal functions will be reintegrated and to ask me to participate in a meeting with all cardinals that will take place in the upcoming days in Rome," Becciu told attendants at Mass on Sunday on the island of Sardinia off the Italian coast.
The news was initially reported by local papers and later published by the Italian news agency, Ansa.
"I am very moved by this gesture by the pope," Becciu told Ansa on Monday. "I sincerely thank him and confirm once again my full communion with him."
Cardinals from around the world will convene at the Vatican next Saturday (Aug. 27) for an ordinary consistory, where they will discuss issues facing the church and welcome 21 new cardinals into the fold.
Pope Francis stripped Becciu of his cardinal rights and Vatican titles on Sept. 24, 2020, following reports of his involvement in financial scandals and corruption, while allowing him to maintain the title of cardinal. Before that, Becciu had been substitute, the third-highest-ranking position at the Vatican, and later headed the Vatican department charged with administering sainthoods.
During the last consistory, in November 2020, Becciu was not allowed to attend, though Francis called him after saying Mass before the newly minted cardinals, which Becciu described as a "ray of light."
In 2021, on Holy Thursday ahead of the Easter celebrations, Pope Francis personally visited Becciu in his home where he celebrated Mass.
Becciu is currently charged, along with nine other curial members and employees, in a corruption and money laundering trial at the Vatican. Prosecutors claim the cardinal siphoned money to his brothers and played a key role in the controversial purchase of real estate in London that, they claim, cost the Catholic institution nearly 400 million euros.
The trial is scheduled to resume in late September.
The cardinal and his legal team have adamantly defended themselves from critics and media outlets reporting the scandals. In November 2020, Becciu filed defamation charges against the Italian newspaper l'Espresso, which was responsible for breaking many of the reports regarding his alleged financial malfeasance.
In the court filing, obtained by Religion News Service, Becciu's lawyers accuse the newspaper of "media homicide" and allege that their reporting has hindered not only the cardinal's career but the Catholic Church as well. In a section titled "On losing a chance," Becciu's lawyers claim that because of l'Espresso's reports he will no longer be able to attend the conclave, which selects the next pontiff.