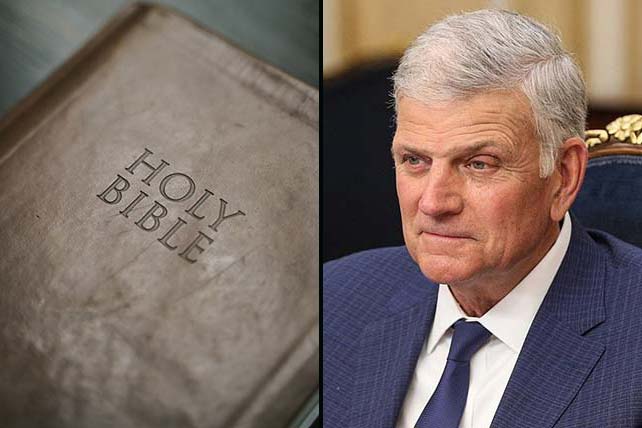 In a Twitter thread posted on Monday (September 5), Samaritan's Purse President Franklin Graham condemned pastors who where surveyed by the Cultural Research Center at Arizona Christian University for its American Worldview Inventory 2022 report.
The survey found that only one out of every three Christian pastors polled in the United States possessed a biblical worldview. The percentage was even lower for teaching pastors.
"I don't know which 1,000 pastors this group surveyed, but the results are concerning. 39% of 'evangelical' pastors they asked said there is no absolute moral truth and that 'each individual must determine their own truth.' What a lie," Graham said.
Graham blasted the one-third of surveyed evangelical pastors who believe that people who do enough good things for others will "earn a place in heaven," labeling them false teachers.
RELATED: 67% of Parents of Preteens Say They Have a Biblical Worldview, but Only 2% Do, Study Says
"The survey also said that 30% of evangelical pastors do not believe that their salvation is based on having confessed their sins and accepting Jesus Christ as their Savior," Graham said. "This kind of false teaching is what is leading people and churches astray."
"The Bible is God's Word, from cover to cover. It is the absolute truth—it is what counts, not our opinion," Graham's thread concluded.
Another result from the survey showed that 30 percent of the evangelical pastors polled believe that "reincarnation is a real possibility," and 60 percent said they believe that a person's success in life is determined by their obedience to God.
RELATED: Do American Christians Actually Have Biblical Beliefs? Barna's 'Revealing' Findings
The survey also revealed that at least one-third of senior pastors polled believe that sexual relations between an unmarried couple who love each other is morally acceptable; the Holy Spirit is only a symbol of God's power, presence, or purity rather than a living divine Person; a person can reach complete spiritual maturity during their lifespan on earth; and the "Bible is ambiguous in its teaching about abortion, enabling you to make a strong argument either for or against abortion based on biblical principles."