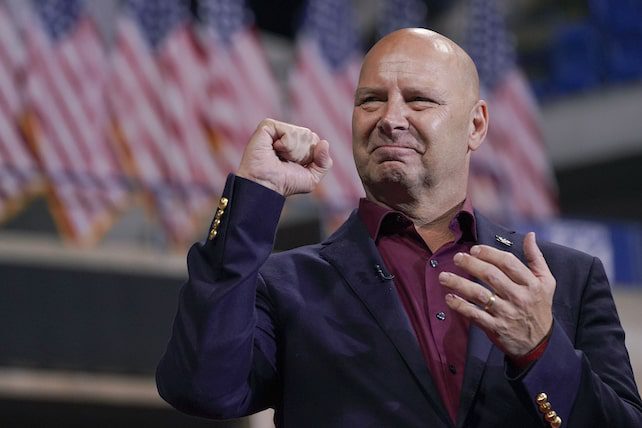 GETTYSBURG, Pa. (RNS) — It's well known that Doug Mastriano, the Pennsylvania state senator now running for governor on the Republican ticket, has a habit of energetically fusing religion and politics, giving voice to Christian nationalism and deriding the notion of separation of church and state as a liberal fabrication.
Among other things, the retired Army colonel has made headlines for appealing to the Almighty to overturn the 2020 election results and incorporating a reference to the Gospel of John ("Walk as free people") into his campaign slogan.
But while some politicians have pivoted toward Christian nationalism this election season, Mastriano was not only leaning into the ideology years ago, but utilizing it as part of a larger pattern of distancing himself from criticism. Although he rejects the term Christian nationalist, Mastriano has invoked faith both as a fuel for his activism and a shield against detractors — including his fellow Christians, who remain concerned about his heavy-handed treatment of their beliefs.
In July 2020, more than a year before he declared his candidacy, Mastriano's rhetoric sparked a theological battle with a group of prominent Lutheran clergy in his own state Senate district of Gettysburg, a rare example of the politician engaging directly with ideological foes. When the faith leaders invoked Christianity to criticize him, he responded by suggesting the Bible prohibits Christians from publicly criticizing elected officials, all while doling out his own condemnation of local religious leaders.
"He was telling us what to do in our churches," the Rev. Maria Erling, a professor at the Gettysburg campus of United Lutheran Seminary who was among those who criticized Mastriano, told Religion News Service.
Mastriano has drawn fire for showcasing intolerance toward faiths not his own. A Rolling Stone report turned up a 2019 radio interview in which he said Islam is "not compatible" with the "Christian-Judeo ideas" of the U.S. Constitution, and "not all religions are created equal." Jewish groups have decried his association with Andrew Torba, head of the social media site Gab, where antisemitic messages and memes are often shared. (Mastriano later deleted his Gab account and condemned antisemitism, although he did not condemn Torba.)
But Mastriano's dispute with his Lutheran constituents shows he's equally willing to reject the voices of other Christians, particularly views often expressed by moderate and liberal Lutherans, Presbyterians, Methodists and others known collectively as "mainline" denominations (named, some scholars argue, for the affluent suburban Philadelphia Main Line communities, where these congregations flourished). Although not as dominant as they once were, white mainline Protestants nonetheless represent 18% of Pennsylvanians — equal to the number of white evangelicals in the state, according to the Public Religion Research Institute.
RELATED: The activist behind opposition to the separation of church and state