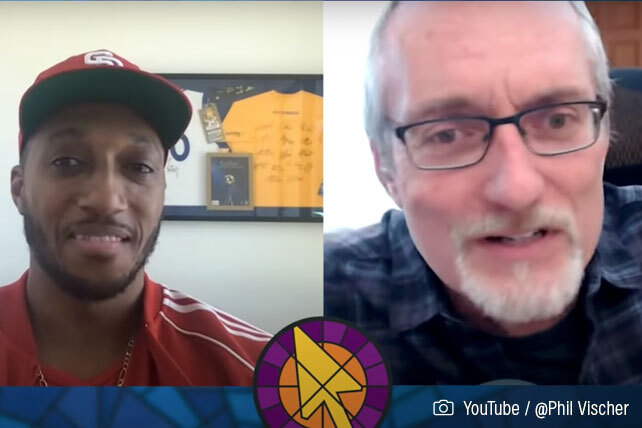 In a Holy Post podcast episode titled "Too Black?" Christian rapper, author, and activist Lecrae recently conversed with Phil Vischer about his career, criticism he's faced, and his confidence that "God is still at work."
Lecrae, 41, just released his 10th studio album, Restoration, as well as the book I Am Restored: How I Lost My Religion but Found My Faith. He's involved in numerous community outreach programs in Atlanta, including prison ministry, because he has a heart for "disenfranchised" people.
Yet during the past few years, Lecrae has been caught in culture-war-type disputes about race and politics—and how Christianity fits into them. The criticism left him so disoriented and bitter, he tells Vischer, that he ran from God for a while. But now, through a process of restoration, the rapper says he's determined to "walk in truth regardless" of what people say about him. "God was helping to remove an idol of acceptance, of wanting to be accepted by people," says Lecrae.
Lecrae: "Why are we so dysfunctional?"
After a rough childhood, Lecrae became a Christian at age 19. He launched his own record label, saying Nashville wouldn't go near him, and he was "too church for the street." Though Lecrae's initial singing and speaking performances were in front of inner-city audiences, white evangelical groups soon took notice.
Initially, Lecrae tells Vischer, he was comfortable in both "worlds," but then he began facing incremental criticism. "When I did things that were black, or culturally African-American, I was criticized by white evangelicals," he says. As the pattern continued, he describes becoming more jaded.
"This is my new family," Lecrae recalls thinking. "Why are we so dysfunctional?" After Trayvon Martin was killed in 2012, for example, the rapper posted on Facebook about his despair—and was roundly criticized. So he tried expressing his thoughts again, via video, only to face even more backlash.
"Any time I made a statement," says Lecrae, referencing the murders of black people by police, he was disparaged. "Why do they think this is political?" he recalls wondering about the white church. "This is my real life. This is my existence."
Lecrae's 2017 song "Facts" tackles the notion that white Christians viewed him as "too black." Part of that, he says, results from mainstream-media depictions of African-American culture "as negative, as sinful, as evil."
In the podcast, Vischer and Lecrae discuss their different upbringings and the history of world missions. "Part of the problem," says Lecrae, is that "white Americans tend to think of themselves as acultural," but there's a difference between "American" and "white American."
Christian Critics Went "Crazy," Says Lecrae
In December 2020, Lecrae faced a new round of criticism when he agreed to perform at a "vote early" rally in Georgia, ahead of that state's Senate runoff election. The rapper thought the event was bipartisan, he says, because he was told "both candidates" would be there. But it turned out to be the two Democrats, including self-described "pro-choice pastor" Raphael Warnock.