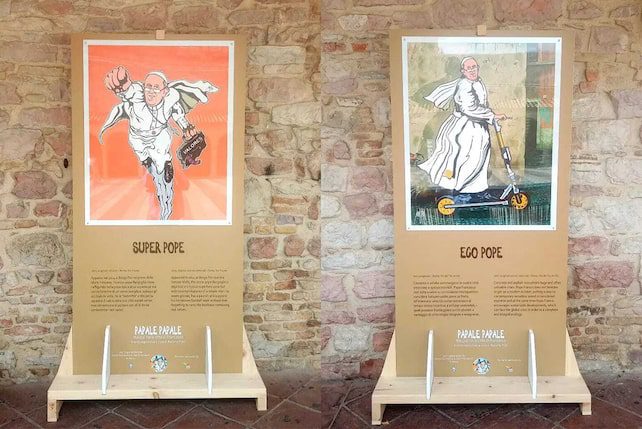 VATICAN CITY (RNS) — Pope Francis' economic vision meets graffiti art in a new show by Roman artist Mauro Pallotta, or Maupal, who hopes his work will inspire the thousands of young adults gathering in Assisi this week as they imagine a new kind of global economy.
The artist's nine most influential works are on exhibit in the Basilica of St. Francis of Assisi until Nov. 6, along with a never-before-seen painting. The exhibition is called "Papale Papale," a play on the Italian words meaning "papal" and "to state things very clearly."
Pallotta's graffiti art aims to bring the complexity of Catholic teaching to regular people on the streets.
"I try to represent in a graphic way the magisterium of Pope Francis by using designs that are understandable to adolescents," said Pallotta in an interview with Religion News Service. "I use a simple and clear message to illustrate the main steps and objectives of Pope Francis."
Pallotta's art is on display in the small town as more than 1,000 young adults from all over the world descend on Assisi, the birthplace of Pope Francis' namesake saint known for his dedication to the poor, peace and creation, for The Economy of Francesco meeting from Thursday through Saturday (Sept. 22-24). The gathering, which aims to promote a more inclusive, sustainable and equality-based economy, will convene "young economic scholars, entrepreneurs, and changemakers, from more than 100 countries," according to the event's website.
After two days of workshops, roundtable discussions and networking, attendees will have a chance to hear from Pope Francis, who will be attending the event and delivering a speech on Saturday, followed by a reading and signing of The Economy of Francesco pact, which includes a series of personal commitments "and an appeal to citizens, institutions, and companies all over the world," according to the EOF site.
The thought of young people working with an 85-year-old pontiff to challenge deeply rooted economic models may seem laughable to some, but Pallotta said he hopes his artwork will remind participants that it's often the smallest and most humble who can change the world.
"It's especially the simple people who do the greatest and most complicated things," he said.
His first portrait of Pope Francis, "Super Pope," launched the artist to international stardom in 2014 and remains his favorite to this day. "Even if that image shows a superhero," he said, referring to the image depicting the pope soaring through the air with his white mantle, "he is actually a very humble and simple superhero."
"He's wearing glasses, has a bit of a belly, and his briefcase containing the Christian values that he always brings with him actually has a scarf emerging of his favorite soccer team in Buenos Aires," he said.
Pallotta was born and raised in and around the Vatican and when Francis was elected in 2013, Pallotta said he immediately resonated with the new pope, who became something of a muse for him. "The greatest inspiration was his tremendous physical similarity with my grandfather who raised me," he said.