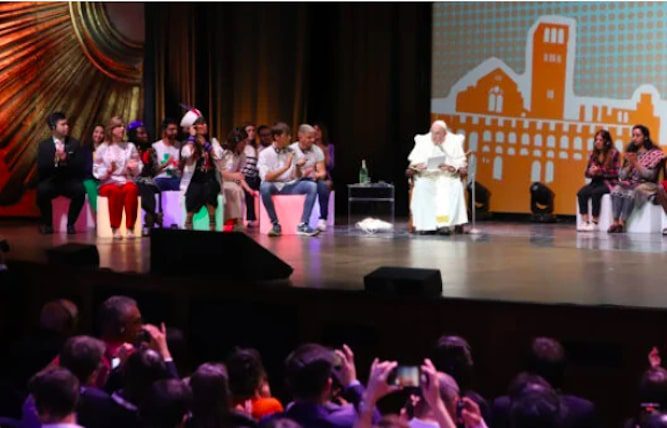 VATICAN CITY (RNS) — Joining young people from more than 100 countries, Pope Francis signed a document on Saturday (Sept. 24) that lays out ideas for a new economy inspired by St. Francis of Assisi, the pope's namesake known for his dedication to the poor, the environment and peace.
More than 1,000 young activists, economists and entrepreneurs under the age of 35 gathered in Assisi, St. Francis' birthplace, over the weekend for a meeting on "the Economy of Francesco," held to present an economic vision that pushes back against systems currently in effect that the activists said favor the rich.
The gathering was the culmination of two years of online and in-person gatherings and events inspired by the pope's call to action two years ago to mitigate the worst effects of capitalism.
The 85-year-old pontiff arrived aboard a helicopter to the main square early on Saturday to hear testimonies from some of the participants and deliver a speech juxtaposing the promise of young people with the devastation wrought by climate change, war and financial inequality.
"Today, a new economy inspired by Francis of Assisi can and must become an economy of friendship with the earth and an economy of peace," the pope said. "It is a question of transforming an economy that kills into an economy of life, in all its aspects."
Francis then signed "The Economy of Francesco Pact," written by the young members of a group of the same name, which pledges its signers to pursue peace, care for the environment and place the poor and most vulnerable at the center.
"Usually, in mainstream economy, poverty is considered at the margins," said Archbishop Domenico Sorrentino of Assisi, a member of the committee of the Economy of Francesco, in an interview with Religion News Service. Supply side economic views, which theorize that wealth trickles down from the wealthiest to the poorest in society, tends to place poor people at the bottom of the pyramid, the archbishop said.
"Today this view is in a crisis thanks to critics of mainstream economy," he added, pointing to the work of English economist Kate Raworth, a proponent of the "doughnut economy," which prioritizes sustainable development. Raworth presented her views to Economy of Francesco advocates in a 2020 session called "We are all developing countries now," drawing praise from the pope.
"We support this radical criticism," Sorrentino said, adding that the wide disparity "between the tiny percentage of rich people who have most of humanity's wealth in their hands and the great multitude of poor who greatly struggle" is proof that "mainstream economy has failed."
Shifting the focus to the poor was a main point of Francis' speech on Saturday and of the proposals of the young economists of Francesco. Taking his cue from the life of St. Francis, who rid himself of all possessions including his clothes, and of the Franciscan friars who followed in his footsteps, the pope sketched his economic outlook.