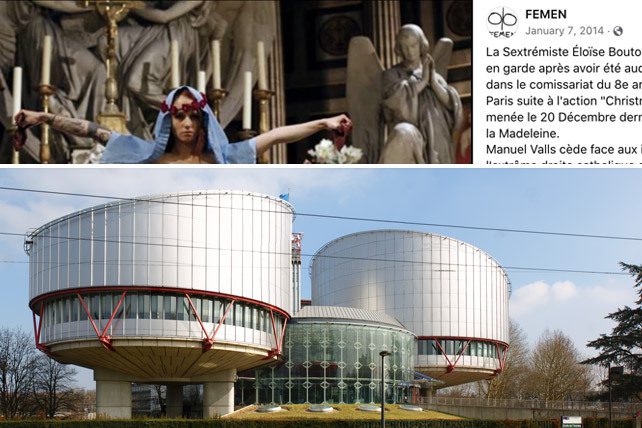 A woman who simulated aborting Jesus while topless in a Catholic church in Paris has been cleared of penalties by the European Court of Human Rights (ECHR). The court ruled that Eloïse Bouton, who represented the feminist group, Femen, must be paid €9,800 (just under $9,600) in damages.
"This decision of the ECHR cannot leave anyone indifferent," writes columnist Blanche Streb, who calls the verdict "as stunning as it was distressing." [Editor's note: Some links in this article show graphic images. Quotes in French have been translated into English via Google Translate.] Says Streb, "To attack the symbols of Christianity…is above all to forget what human rights and modern democracy owe to Christianity: the inalienable dignity of the human being."
Femen Activist Posing as Mary Simulates Aborting Jesus
On Dec. 20, 2013, Eloïse Bouton entered La Madeleine church in Paris and walked up to the altar topless, wearing a blue veil and a crown of flowers on her head. Bouton had "Christmas is canceled" written on the back of her torso and a phrase with an obscene word written on the front. The phrase alluded to a pro-abortion 1971 manifesto authored by activist Simone de Beauvoir and signed by 343 women who had had abortions. Bouton used beef liver to simulate the abortion and stood in the pose of the crucifixion. Some reports say she also urinated in front of the altar. 
According to Femen's website, the group "is an international women's movement of brave topless female activists painted with slogans and crowned with flowers." Femen's goal is "complete victory over patriarchy," which the group fights with "sextremism," described in part as "a non-violent but highly aggressive form of provocation." The crown of flowers represents "femininity and proud insubmission." 
In a January 2014 Facebook post about Bouton's arrest, Femen said, "Eloise spent 8 hours in custody for exhibitionism and was informed about a process against her. FEMEN will be charged for exhibitionism." According to the post, at the time Bouton faced one year in jail and a fine of up to €15,000. "Shame to French authorities for such sexism and for giving up human rights principles in support of religion," said Femen.
According to LifeSiteNews, two days after the incident, Bouton published an article stating that the pieces of meat she held were "symbols of the aborted infant Jesus," and that she had "left the bloody holy fetus at the foot of the altar." 
French news agency RFI reported on Dec. 17, 2014, that Bouton, who was then no longer with Femen, had been found guilty of "sexual exhibition." She was given a one-month suspended prison sentence and ordered to pay the church's priest €2,000 in damages and €1,500 in legal fees.
Bouton argued in court that she was making a political statement and that her actions should not be seen as sexual in nature. Her initial appeals against her one-month suspended sentence and fines were not successful.