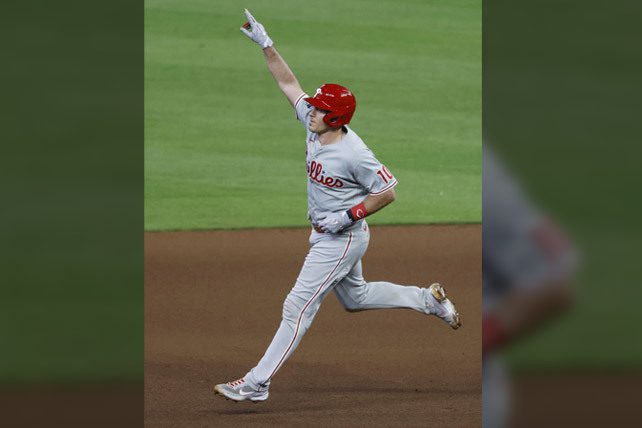 Playing in the Fall Classic is a dream come true for baseball's best. While chasing his dream of a World Series championship, Philadelphia Phillies star J.T. Realmuto is vocal about following Jesus and prioritizing his faith.
Realmuto, one of baseball's top catchers, scored the go-ahead home run in extra innings of game one Friday against Houston. Afterward, the three-time All Star thanked God and credited his teammates during a post-game interview. "I'm just so thankful for this opportunity," said Realmuto, 31. "I thank God for being able to come out here and play this wonderful game for a living."
After earning a National League wild-card berth this fall, the Phillies beat two division winners. In October, Realmuto became the first catcher to hit an inside-the-park homerun during the postseason.
The best-of-seven World Series is tied at one game apiece, with the next matchup slated for tonight (November 1).
J.T. Realmuto: Jesus Is No. 1
J.T. Realmuto, selected by the Marlins in the 2010 draft, was traded to the Phillies in 2019 and has a five-year, $115.5 million deal. During a 2020 episode of the podcast "Faith on the Field Show," the catcher said he grew up in the church but didn't truly embrace the Christian faith until meeting his wife, Alexis. The couple, married since 2016, have three young children.
"I wasn't necessarily on fire for [Jesus]," Realmuto admits. "I wasn't living for him until I met Alexis." Going all-in with his faith was life-changing for the athlete. "It's extremely important to me in life to know that the first thing I am…before I'm a father, before I'm a baseball player, the No. 1 thing I am is a follower of Christ," he says.
J.T. Realmuto: Despite Life's Uncertainties, Jesus Has a Plan
Amid contract negotiations and the ever-present risk of injuries, trusting God is essential as a pro athlete, says J.T. Realmuto. He and his wife "constantly have this conversation that it's not really worth it for us to think about or stress about or worry about" those things, he says, because "[God's] already got a plan."
Realmuto continues: "Especially in today's day, being able to fall back on that relationship with Christ, if that's the center of your life, all these problems that you're going through, all these worries that you have, always seem a lot smaller. You can always have faith in him that he'll be there with you to get you through that."