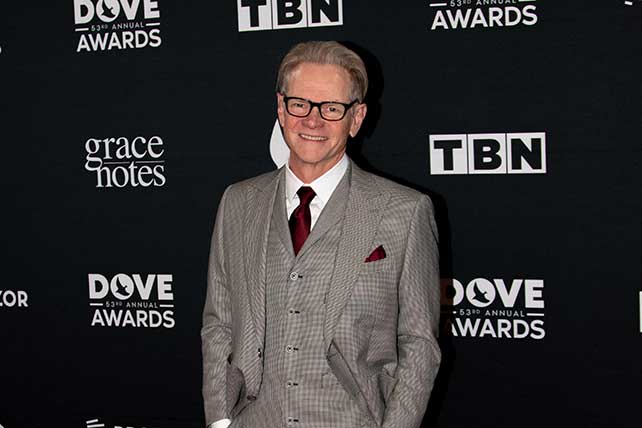 Five-time Grammy Award-winning Christian artist Steven Curtis Chapman is no stranger to the Gospel Music Association's Dove Awards. Chapman has received 59 Dove Awards, seven of them being the "Artist of the Year" award, a feat that no other artist has accomplished. Further, he isn't planning on slowing down anytime soon.
In fact, the 59-year-old Christian music icon released a new album this past October titled "Still" and in October performed at the 53rd Annual Dove Awards.
ChurchLeaders caught up with the "Great Adventure" singer on the Dove Awards' red carpet ask him what inspires him, as well as how he has been able to sustain success across so many years.
RELATED: At Dove Awards TobyMac Talks Son's Death, Collaborating With Sheryl Crow, and How a Youth Pastor Changed His Life
"I still am compelled to write and create art that's illuminated by my faith," Chapman said. The veteran Christian music artist explained that he sets out to make the best art he can, because people who know the art giver, God, ought to be making the best music out there.
"God continues this beautiful thing about the journey of faith. You know, we never arrive until finally the Father says, 'Come home,'" which means, Chapman said, we continue to learn and grow.
The musician shared that, in the past few years, his heart has been broken in ways it never has before, inspiring the song on his latest album "Still."
"Not only personally in my family—14 years ago losing our daughter," he said, "but then this pandemic sorta brought a lot of that back to the surface, some of the scabs of loss and and grief for us, because we were touched by it with our family and friends and world. And while it isolated us, it also, in so many ways, stirred so much in my heart and I just started writing songs about it. That's the way I process and the way I wrestle through things is with music."
Chapman has released over 20 albums throughout his career, including his album "First Hand," which debuted over 35 years ago. He expressed that he doesn't plan on stopping until Jesus takes him home to heaven, saying, "I feel like as long as I'm breathing, I'm probably going to still be writing songs, because that's going to be how I'm still trying to process out what's happening in here, what's happening around me."
RELATED: Brooklyn Pastor Robbed During Livestream Sends a Message to Churches at Dove Awards Red Carpet
Having experienced various trials and accomplishing more than most Christian artists ever do, Chapman encouraged Christians to seek Jesus, because life apart from him will lead hopelessness and utter darkness.
"I have more questions—far more questions than answers now, with life and all that we've lived through and gone through," Chapman said. "[Christians] know how the story ends. So let's keep reminding each other and encouraging each other because there's nowhere else to turn that isn't just complete and utter hopelessness."
Correction: A previous version of this article said that "Still" was released in August.