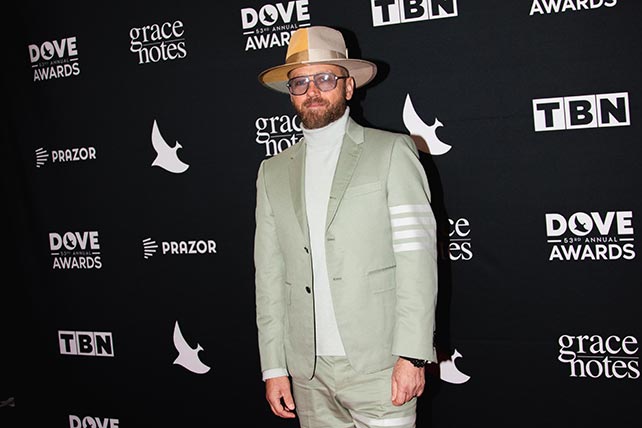 Nominated for two awards this year, Toby McKeehan, better known to most as TobyMac, was accompanied by his sons, Leo and Judah, on the red carpet at the 53rd GMA Dove Awards Tuesday night (Oct. 18).
The 57-year-old "Jesus Freak" has collected over 20 Dove Awards throughout his accomplished solo career, which started in 2002 after DC Talk decided to mutually part ways.
ChurchLeaders caught up with TobyMac on the red carpet, where he shared with us that he wouldn't be a Christian today if it wasn't for a youth pastor inviting him to a summer camp.
"I just want to say to all the church leaders out there that I would not be a Christian if a youth pastor did not reach out to me and love on me and invite me to a camp one summer," He said. "He invited me, and it's why I'm a Christian, and it's why I make music that talks about the King."
RELATED: 'I Met Grief in the Fiercest Way,' TobyMac Opens up About Truett's Death
TobyMac's music takes inspiration from the events and relationships in his life, he shared. "The good, the bad and the ugly. The hard things in life. The times we fail. The times that we feel God picks us up and the times we feel like He wants us to go through something hard, so He lets us sit there sometimes."
TobyMac On His Son's Death
McKeehan, who lost his first born son Truett to an accidental drug overdose in October 2019, said, "[God] never leaves us. That's the most important thing. It might be hard. He might not change it to what we want it to be, but He's there with us in it, and that's what I've learned to count on."
RELATED: TobyMac Tells Good Morning America His Son's Death 'Rocked' His Faith, but God Has 'Been Kind'
The "Life After Death" musician reminded the church in America that God is still at work, saying, "I know it might not feel that way sometimes and we feel very divided. But I can tell you this, I've walked through the hardest valley of my life in losing my firstborn son, but I've never felt more surrounded by love through the body of Christ. So I think it seems divided, but when we need each other, we come back together."
"So be encouraged by that and be encouraged that God is Lord of all this," McKeehan said. "He's Lord of all of it. He knows the chaos that's going on on earth. He knows the chaos that sometimes goes on in our own churches, but He's the Lord of it, and to recognize Him and just keep recognizing Him. He's there in the deepest of valleys."
TobyMac With Sheryl Crow
ChurchLeaders asked TobyMac to share how the collaboration with 9-time Grammy Award winning artist Sheryl Crow came about. The two appeared together on the song "Promise Land," which is up for a Dove Award in the "Short Form Music Video of the Year" category.