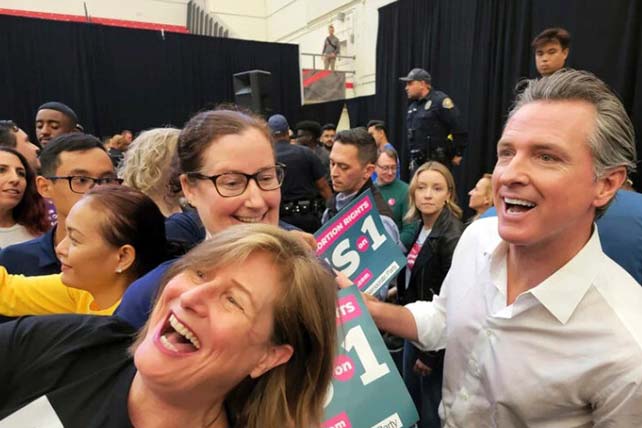 LOS ANGELES (RNS) — California will codify the right to abortion in the state's constitution after voters on Tuesday (Nov. 8) overwhelmingly approved a measure that Catholic bishops and other Christian leaders rallied against and prayed for its defeat.
With the passage of Proposition 1, the California Constitution will declare that the state "shall not deny or interfere with an individual's reproductive freedom in their most intimate decisions, which includes their fundamental right to choose to have an abortion and their fundamental right to choose or refuse contraceptives."
Early Wednesday results showed 69% of voters approved the measure.
As Election Day approached, Los Angeles Archbishop José H. Gomez led Catholic bishops across the state in urging residents to vote against the measure, which was placed on the ballot soon after the U.S. Supreme Court's decision this summer to overturn Roe v. Wade. Critics, who also included conservative Protestant faith leaders, alleged that Proposition 1 "would remove all restrictions on abortion in California" and allow abortions up to the moment of birth.
The amendment does not spell out which, if any, types of abortions would still be prohibited. State law already restricts third-trimester abortions, and California legal experts have said they don't expect courts to interpret the amendment as expressly permitting them.
RELATED: Newsom Launches 'Biblical' Pro-Abortion Billboard in Pro-Life States; 'This Is Nothing Short of Demonic," Feucht Says
Ballot measures supporting abortion rights were also approved by voters in Vermont and Michigan, which in both places made both abortion and contraception a right. In Kentucky, a proposed amendment declaring that no right to abortion exists went down to defeat, though abortion is banned by law in the state.
California's decision represents a second disappointment for American Catholic bishops, who took a strong stand supporting a proposed "no right to abortion" amendment in Kansas in August, only to see voters turn it back.
In a video shared Monday, Bishop Alberto Rojas of the Diocese of San Bernardino said the measure "promotes a culture of death" and "doesn't affirm the beauty and value of a life that God has given us."
Bishop Oscar Cantú of San Jose, Bishop Kevin W. Vann of Orange, and Auxiliary Bishop Timothy Freyer of Orange published a column Friday in America, a Jesuit magazine, in which they referred to Proposition 1 as "extreme" and "unnecessary."
"California already has some of the most permissive abortion laws in the country," they wrote, adding that it would pave the way for "some of the most permissive abortion policies in the world."
The California Family Council, a nonprofit aiming to advance "God's design for life, family and liberty," led a vigil Tuesday on the steps of the state Capitol. Pastors Jed Dahlen of Calvary Solid Ground, Joe Pedick of Calvary Chapel of the Harbour and John Randall of Calvary South OC were among faith leaders who prayed for the defeat of the measure.
This article originally appeared here.