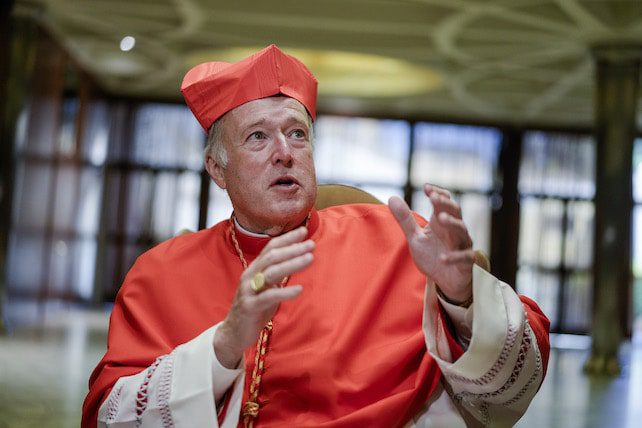 BALTIMORE (RNS) — America's newest cardinal called on his fellow bishops to challenge lawmakers who want to cut Ukraine aid, urging prelates to speak out against leaders of a Republican majority in the next Congress angling to reduce U.S. support for the country as it battles Russian invaders.
Cardinal Robert McElroy of San Diego, who was elevated by Pope Francis in August, offered his challenge Wednesday (Nov. 16) after bishops heard a presentation on the situation in Ukraine by Ukrainian Catholic Archbishop Borys Gudziak, who oversees the Ukrainian Catholic Archeparchy of Philadelphia. Gudziak detailed the horrific devastation wrought by Russia's invasion, telling personal stories and showing images of the destruction.
After Gudziak finished, McElroy went to the microphone on the assembly floor. Nonviolence is important regarding issues of war and peace, he said, but the situation in Ukraine "is an instance where justice requires resistance."
RELATED: The Catholic Church hasn't forgotten the people in Ukraine, prelates say
He then warned that some incoming members of Congress have stoked "rumblings of cutting support to Ukraine from the United States."
"That could be very ominous in terms of the continuity, the flow of weapons and support, that is essential to convincing the Russians that they cannot succeed," McElroy said. "I would urge the conference to make it a very high priority to move quickly to preempt, in all the ways available to us, any moves in our national policy in that direction."
As he finished, his fellow bishops burst into applause.
His remarks were directed at lawmakers who have called for cutting aid to Ukraine — particularly Republicans such as House Minority Leader Kevin McCarthy of California, who has signaled the possibility of cutting Ukraine aid should the GOP retake control of the House, an increasingly likely scenario as votes continue to roll in from last week's midterm elections. The sentiment has been echoed by Republicans such as J.D. Vance, an Ohio Catholic who just won election to the U.S. Senate.