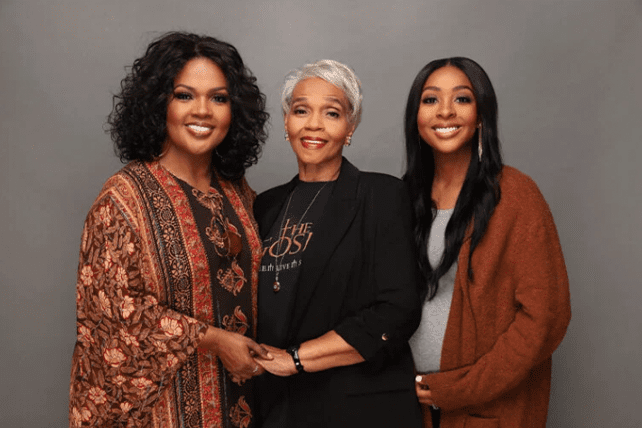 (RNS) — CeCe Winans is known for her gospel-singing family and her award-winning contemporary Christian music.
But after more than four decades in that industry, Winans seeks to be a bridge-builder across generations, encouraging older folks to share their faith and life lessons with younger people who may or may not have darkened church doors.
At 58, the author of the new book "Believe for It: Passing on Faith to the Next Generation" is practicing what she's preaching.
She and her husband, Alvin Love II, are founding co-pastors of the nondenominational Nashville Life Church but "Pastor Mom and Dad" have turned over the leadership of the multigenerational and multicultural congregation to their son, Alvin Love III.
"We have to learn that we can't wait until people are perfect before they get into position," Winans said in an interview. "It has been amazing. He has grown the church, but I just love the way he does things totally different than what we did 'em but yet it's so much better. So, no regrets. Praise God."
Winans also emphasizes intergenerational wisdom-sharing through the "Generations" YouTube show she co-hosts with her daughter, Ashley Phillips, and by featuring her mother, Delores Winans, in her Generations Live conferences. She also included then-19-year-old MDSN (pronounced "Madison") on her "Believe for It" album, the focus of her concert tour, which restarts this spring.
Winans talked with Religion News Service about her hopes for opening doors for younger artists, what she's learned from "church mothers" and why retirement is not on her mind, despite admitting she loves just staying home and spending time with her young grandson.
The interview has been edited for length and clarity.
Congratulations on recently being named Artist of the Year at the GMA Dove Awards. What did it mean for you that this came after you recorded "Believe for It," the name of your most recent album as well as your new book, and after 40 years in music ministry?
Exactly. (laughs) Receiving that award was just — I don't think I have the words — I was so honored, humbled, excited and really in shock. I wasn't expecting it at all. But to have been out here for over 40 years and to still be welcomed — and not just welcomed but celebrated to that level — all I can say is: To God be the glory.
What do you think that recognition says about the state of the contemporary Christian music industry, given that you were the first African American female soloist to receive it?
Well, I think it's a step, a big step in the right direction. And hopefully, it's encouraging to see more diversity in our industry occupying all the different levels of award. I know there are extremely talented young people who are coming after me that will deserve that spot. And I feel good about that door being open so others can walk through as well.
Your new book focuses on your belief that older Christians can pass on their faith to young people. With a declining worship attendance across the United States, what advice do you have for the elders as they seek to do that?
Well, my advice is to get busy. As you get older, as you accomplish certain things, you kind of feel like you need to step back, you need to slow down. And it's the total opposite. That's totally contrary to what I believe God wants us to do as believers. As a believer, you never retire.
So this is an urgent cry. This is an urgent need for all of us as believers, especially those my age and older, to get busy pouring into the next generation. There's somebody that you can pour into that's coming up after you.