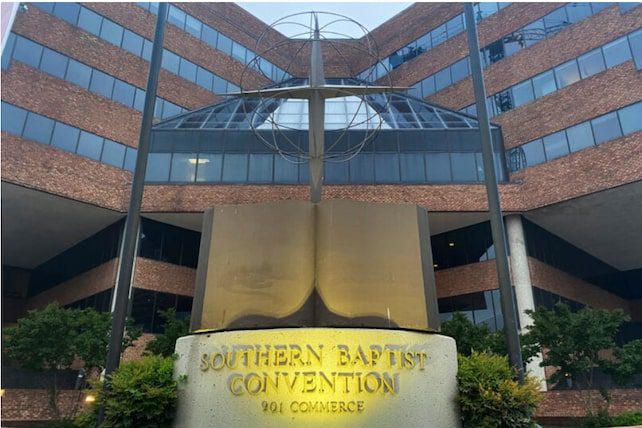 (RNS) — A former seminary professor and missionary who admitted sexual misconduct has sued a group of Southern Baptist Convention leaders and entities, claiming they conspired with an abuse survivor to ruin his reputation.
In a complaint filed Nov. 21 in the Circuit Court of Mobile, Alabama, David Sills, a former professor of missions and cultural anthropology at Southern Baptist Theological Seminary, admits he lost his job in 2018 due to what he called "morally inappropriate consensual intimate" conduct with a student.
Sills claims the situation was consensual and alleges that SBC leaders, including Southern's president, Albert Mohler, turned his confession against him, labeling him as an abuser.
They did so, according to the complaint, as a public relations stunt, aimed at improving the SBC's reputation during a national sexual abuse scandal. That public relations effort, according to the suit, included an investigation by Guidepost Solutions into SBC leaders' handling of alleged abuse cases, which was made public earlier this year.
"David Sills was repentant and obedient to the rules of the SBC," the complaint alleges. "Defendants saw him as an easy target; a bona fide scapegoat."
RELATED:  Southern Baptist leaders mistreated abuse survivors for decades, reports says
The complaint names Southern seminary and Mohler, as well as the SBC's Executive Committee, SBC President Bart Barber and his predecessor Ed Litton as defendants, along with several other leaders. Also named as a defendant is Lifeway Christian Resources, a research and publishing arm of the SBC, and Guidepost Solutions.
It also names Jennifer Lyell, a former seminarian and vice president for Lifeway, who has repeatedly alleged that Sills was abusive, an allegation Mohler has also made on social media and in an interview for a documentary about the denomination's response to its sexual abuse crisis.
Guidepost "perpetuated a false narrative in a Report, in exchange for payment and in concert with Defendants," all of which ruined Sill's reputation and labeled him as an abuser, according to the complaint.
Guidepost declined to comment. The SBC Executive Committee and several other SBC leaders did not immediately respond to requests for comment.
"Lifeway was made aware of the lawsuit last week. Our legal team is in the process of reviewing the complaint and we do not have any further comment at this time," said Carol Pipes, director of corporate communications.