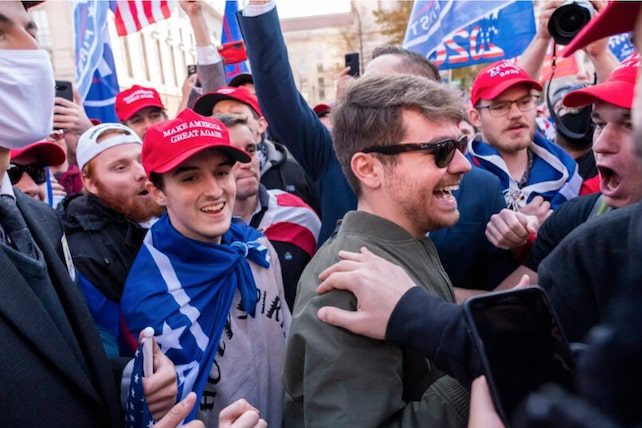 (RNS) — In the days after his recent dinner with former President Donald Trump, the rapper Ye, formerly known as Kanye West, reflected on the experience in a video posted to Twitter. Speaking to an associate, Ye said his own exchanges with Trump were tense. But as they dined, he said, the former president was practically glowing about someone else at the table: Nick Fuentes, the white Christian nationalist whom Ye had brought with him to Mar-a-Lago.
"Trump is really impressed with Nick Fuentes," Ye said in the video, which has since been deleted.
A few seconds later, Ye pivoted to a different topic: faith.
"Since we know, and all the Christians in America that love Trump know, that Trump is a conservative, we're going to demand that you hold all policies directly to the Bible," Ye said.
While the meeting at Trump's club drew national outrage because of Fuentes' antisemitic and white supremacist views, it was a win for an extreme subset of Christian nationalists who knit together virulent anti-immigrant and anti-LGBTQ sentiment, opposition to abortion and, in many cases, overt forms of antisemitism and white nationalism.
This cadre of media-savvy, mostly right-wing Catholics are exacting a growing allegiance from far-right political figures and groups. While some, including Fuentes, have attached themselves to seemingly quixotic causes such as Ye's own nascent presidential bid, the dinner at Mar-a-Lago showcased how they have succeeded in gaining entree for their vision of American politics.
RELATED: How the Capitol attacks helped spread Christian nationalism in the extreme right
A key figure in the movement is Milo Yiannopoulos, a far-right agitator who reportedly helped set up the Trump meeting, and whom Ye referred to as a campaign staffer in a recent video. (Yiannopoulos clarified to Religion News Service in an email this week that "there is no campaign at present" in a legal sense.) Once associated with the right-wing website Breitbart, Yiannopoulos faded from prominence around 2017 after several scandals, one spurred by a video showing him singing karaoke as white supremacists in the audience cheered and gave Nazi salutes.
He has since recovered his standing as a connector of various far-right Catholic voices with right-wing politicians. His recent ascendance is partly thanks to Michael Voris, head of the hyperconservative Catholic outlet Church Militant. Decried by critics as racist and homophobic, the digital talk and news outlet, based in Michigan, originally used the word "Catholic" in its name until its local archdiocese publicly pressured it to stop doing so.
In an interview with RNS in April, Voris pointed to a Church Militant interview with Yiannopoulos in which Voris pressed him to explain how he reconciles his homosexuality with his Catholic faith. According to Voris, Yiannopoulos called him years later to thank him, describing his question as a "challenge" that set him on a new spiritual path that eventually resulted in his identifying as "ex-gay" and embracing a more conservative form of Catholicism.