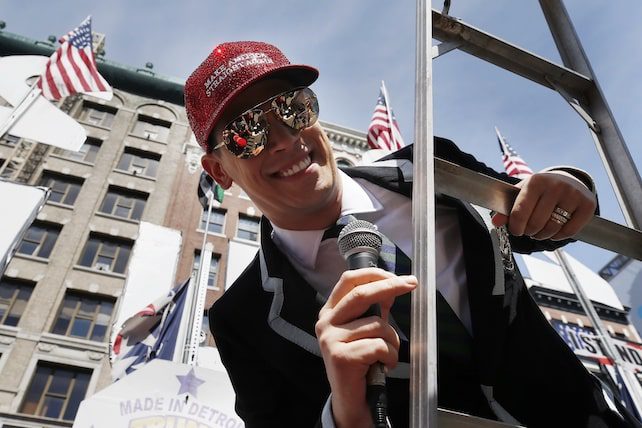 Milo Yiannopoulos, the right-wing commentator (some say "agitator") whose events often spark controversy, is scheduled to speak about conversion therapy and other hot issues next week at Penn State University (PSU). The student organization Uncensored America invited Yiannopoulos, who now calls himself an "ex-gay," to discuss the topic "Pray the Gay Away."
More than 10,000 people have signed a Change.org petition to "end hate speech" and uninvite Yiannopoulos. Some students are upset that tuition money is being used for his appearance. The university, meanwhile, says although it abhors Yiannopoulos' message, he and the group that invited him have constitutional rights of free speech.
Milo Yiannopoulos' Language Is Protected, Says Penn State
In a statement, PSU says, "As offensive and hurtful as Yiannopoulos' comments have been and are likely to be again, and despite our own abhorrence for such statements and the promotional tactics used, Uncensored America has the undeniable Constitutional right to sponsor this presentation on our campus. The University lacks the right to do anything to stop it." School officials encourage students to avoid being "baited" into reacting. Instead, they say, "Commit yourself instead to expressing care and support for those who are the object of his hate."
The petition to uninvite Milo Yiannopoulos reads, in part, "Implying that one needs to 'pray the gay away' means that homosexuality is a choice and implies it is the wrong choice. This is not the message that we should be sending students or prospective students touring the campus for the first time."
Students who spoke to a local TV station generally agreed that Milo Yiannopoulos has the right to talk, as long as violence doesn't erupt. Although that has happened in the past, the commentator says he has toned down his message. "There's no one coming to protest me these days, which is a great relief," Yiannopoulos said last month, during a hearing about an event in Baltimore.
Milo Yiannopoulos Wants to Rehabilitate Conversion Therapy
Yiannopoulos, 37, says "new spiritual preoccupations" have shifted his priorities. In an interview earlier this year with LifeSiteNews, he describes leading a daily consecration to St. Joseph online. Yiannopoulos chooses Jesus' earthly father and protector "in this time of gender madness," he says, as "an act of faith in God's Holy Patriarch and a rejection of the terror of transsexuals."
Trying to become "sodomy free" hasn't been easy, admits Yiannopoulos, who compares same-sex attraction to an addiction. The man he lives with "has been demoted to housemate," he says, and "counting days" of abstaining acts as "an effective bulwark against sin."
As for fighting lustful urges, Yiannopoulos says it's not easy, "just simple." He explains: "Our Lord endured worse than any of us and promises us that we have to take up a heavy cross each day." He adds, "The best advice I can give others in my situation is: Check your pride, not your privilege. … Learn to catch it before it takes root, and difficult things suddenly don't seem so difficult."