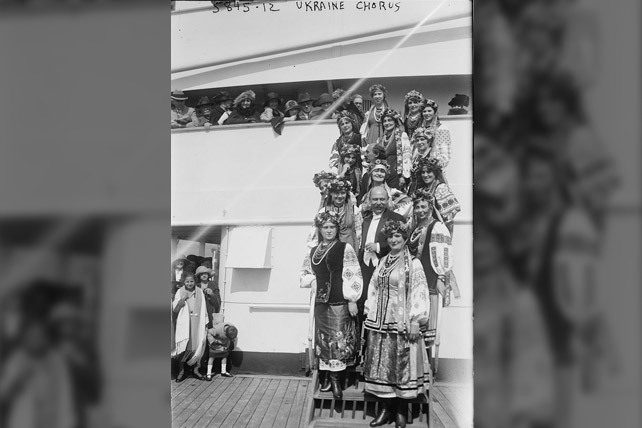 It is complex and hauntingly beautiful, a work of musical genius. The original lyrics had nothing to do with Christmas. It emerged amid political violence and oppression. And 100 years later, the country that birthed the "Ukrainian Bell Carol" (also known as "Carol of the Bells") is suffering hardships that are all too familiar.  
"This is a tragic, tragic time in Ukrainian history," says Lydia Tomkiw, a journalist and second generation American who grew up in a Ukrainian household. "It parallels what was happening 100 years ago, the echoes are there. It's devastating that we're seeing it again."
RELATED: The Surprising History Behind 'Joy to the World'
'Carol of the Bells'—Not Originally a Christmas Song
Tomkiw, who grew up speaking Ukrainian and playing the bandura, a Ukrainian folk instrument, appeared on the Nov. 27 episode of the podcast, "Hark! The Stories Behind Our Favorite Christmas Carols." Tomkiw spoke with host Maggi Van Dorn about the history behind "Carol of the Bells," which Tomkiw has written about at length in an article titled, "Toll of the Bells: The forgotten history of nationalism, oppression, and murder behind a Christmas classic."
The melody of "Carol of the Bells' is actually a Ukrainian folk song titled, "Shchedryk," or "The Little Swallow." The song predates Christianity, and its purpose was to welcome spring and a new year. The lyrics describe a swallow telling the master of a house to come out and look at his livestock and his beautiful wife. "Shchedryk"' is still popular in Ukraine today.
Mykola Leontovych, a prominent Ukrainian composer and choral conductor born in 1877, is responsible for arranging "Shchedryk" as we know it, likely basing his composition on a version of the tune that he heard in his childhood. Leontovych then sent the arrangement to Oleksander Koshetz, who directed the country's national choir, Ukrainian Republic Kapelle.
This was a turbulent time for Ukraine. The Ukrainian People's Republic was formed in 1918 after the fall of the Romanovs in 1917. President Symon Petliura, wanting to promote Ukrainian culture, decided to send the national choir on tour, thus popularizing "Shchedryk" throughout the world.
From 1918 to 1922, the Bolsheviks carried out the Red Terror, murdering anyone who supported Ukrainian culture. In 1921, Leontovych and his family unwittingly gave shelter to a Soviet agent, who then assassinated the composer. By 1921, the fledgling republic had collapsed.