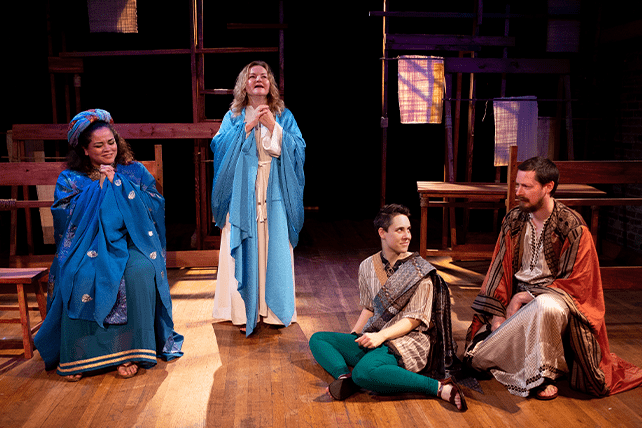 (RNS) — The new audio drama podcast "Almelem," set in first-century Palestine, begins with a perfect plan.
They gather thousands of believers and create a seamless campaign strategy.
Then Jesus shows up and ruins everything, leaving the main characters with no choice but to invent a new religion on the fly.
The resulting "biblical backstager" may sound like Monty Python's "Life of Brian," but in execution it more resembles New Testament fan fiction. Engaging, hopeful and occasionally profane, it gently reimagines the greatest story ever told.
Broken into five episodes, "Almelem" debuted in late November, with the final episode due out just before Christmas. It is based on a 2018 play of the same name by New York writer Sean Williams. Williams is also a co-founder of the company that produces the new podcast, Gideon Media, known mostly for its science fiction tales such as "Steal the Stars" and "Give Me Away."
Jordana Williams, Sean's wife, directs the show, which features their friend and playwright Mac Rogers as John the Baptist, referred to by a fictional childhood nickname, Ya-Ya.
Sean Williams got the idea for the play while attending an Easter service at Judson Memorial Church in New York, where his friend, the Rev. Micah Bucey, is an associate minister. At the service, Bucey told a story that had long circulated at the church about an old cross that had been taken down and repurposed into a Communion table.
Bucey told the congregation that the story, though a myth, was still true, making a parallel to the death of Jesus and the empty tomb inspiring early Christians to create a new community around the Communion table.
Inspired by the sermon, Williams, who grew up in a Latter-day Saints family, began to think about how Christianity began.
"Immediately, I got the idea of John the Baptist possibly being the messiah," he said. "Because it was a gig they were looking for someone to get."
Though he's not religious, Williams said he has always been intrigued by faith and by how the New Testament made its way from firsthand accounts to the stories we know today.
That led him to write the tale of a con man named Gestas and his apprentice Almelem, who teams up with power broker Mary Magdalene, on the search for a new messiah. At first, they are mostly driven by their hatred of the Romans or a desire for profits. Along the way, something changes.