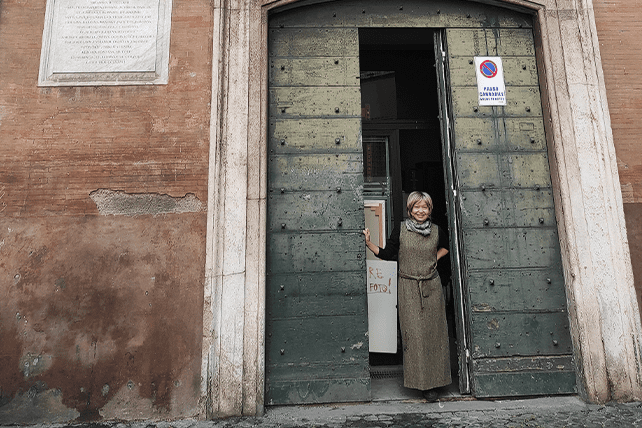 VATICAN CITY (RNS) — From her cozy studio hidden behind Rome's famous Piazza Navona, the "official Vatican portraitist," Natalia Tsarkova, uses her brush to capture the likeness of popes, princes and patriarchs.
A 6-foot portrait of the recently canonized St. John Paul II, peering down benevolently while leaning on a shimmering staff, dominates the apartment, located in a 16th century palace. Above the door a fresco of an angel painting on a canvas remains visible despite the erosion of time.
On a recent December Friday, the pungent odor of oils and painting solutions filled the room as Rufus Majestic, a large Indian Eagle owl, circled overhead, occasionally hooting at the intrusions into his domain. Below, Tsarkova's tiny frame moved nimbly through the collection of books, paintings and boxes strewn all over the floor as she searched for pictures of her latest project: the most recent portrait of Benedict XVI, a massive composition showing the retired pope surrounded by his pontifical family.
Dubbed the "painter of popes," Tsarkova is the first artist to portray four of them — John Paul I and II, Benedict XVI and Pope Francis — and she approaches her work with both passion and mission, aiming to bring a message of peace to a world fraught with division and conflict.
"A painting isn't enough. It also has to have a positive impact," Tsarkova, who came to Rome in 1995, told Religion News Service. "I feel a great responsibility and honor through my art as an Orthodox Christian," she added.
Born in Soviet-era Moscow, Tsarkova showed promise as an artist at a very young age. In 1989 she became the first woman to be accepted into the Russian Fine Arts Academy and studied under the mentorship of famed Russian painter Ilia Sergeevich Glazunov.
Tsarkova's first years in Rome were marked by struggle and poverty. "But by the late 1990s, I began to see her everywhere," said Robert Moynihan, founder and editor-in-chief of the magazine Inside the Vatican, in an email to RNS. The Vatican expert said Tsarkova "was tireless" and quickly built a network of connections at curial and diplomatic events.
"I believe that it was through these contacts that she was able eventually to receive the commissions to do portraits of high-ranking Vatican officials, and even Popes," he said.
In 2001, when synods were markedly secretive and closed-off affairs, Tsarkova became the first woman allowed to attend the bishops' assembly. She was present at almost every meeting and created a painting representing John Paul II's last synod of bishops. Her art has traveled all over the world and has been showcased in sites ranging from the U.S. Congress in Washington to London, Moscow and Beirut.
She also painted a portrait of the Russian Orthodox Patriarch Kirill of Moscow in 2015, which she described as a great honor. "I try to be a bridge between Russia and the Vatican," she said.
"The popes say to stop the fighting and remember that we have much more in common than we realize," she said.
"I do as the popes do, I pray for peace and try to contribute as much as I can for peace with my brush," she added. "Art is above everything."