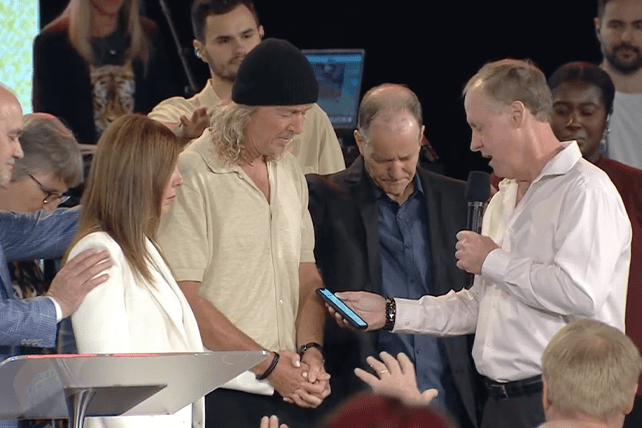 On Sunday (Feb. 5), Phil and Lucinda Dooley were announced as the new global senior pastors of Hillsong Church. The couple had stepped into the role on an interim basis following the sabbatical and subsequent resignation of the church's founding pastor, Brian Houston, in 2022. 
Houston, who had pastored the church for nearly four decades, resigned in March 2022, roughly two months into what was to be a yearlong sabbatical, which arose in part from concerns about Houston's previous conduct with regard to instances of alcohol and prescription drug abuse, as well as inappropriate behavior toward women. 
Houston is also facing criminal charges for his part in allegedly covering up the child sex abuse of his late father, pastor Frank Houston. Those court proceedings are ongoing and were cited as the reason for Houston's sabbatical in the original announcement. 
Despite the looming possibility of a criminal conviction, Houston has resumed speaking and preaching at various engagements, both in Australia and around the world. 
For Hillsong's part, the church, which is one of the most influential creators of modern worship music in the world, has been the subject of public scrutiny through multiple docuseries and lawsuits alleging a toxic leadership culture and financial impropriety. 
Phil and Lucinda Dooley have been a part of Hillsong since they attended the church's youth group, going on to found a Hillsong Church in South Africa. In the 14 years they led in South Africa, the church grew into a large, multisite congregation. 
The couple was called back to Australia to lead the global Hillsong church on an interim basis following the announcement of Houston's sabbatical. 
"Today, as we look forward to a new era, it's important that we first acknowledge and honor pastors Brian and Bobbie Houston," said Hillsong Church Global Board chair Stephen Crouch on Sunday. "We can be deeply thankful for their vision, their passion, their commitment—to build a church where people can come to know Christ, where people can be discipled, and where we can learn to lead and to live flourishing, blessed lives."
Crouch continued, "But today I have the enormous privilege of standing before you on behalf of the global board to announce Phil and Lucinda Dooley as our new global senior pastors of Hillsong Church."
The announcement was met with a standing ovation.
"Beautiful," Crouch remarked amid the cheers. "Fantastic."
"Phil and Lucinda were raised up in our church," Crouch said. "They've served in many roles: as youth pastors, worship pastors—who knew—pastoral care, and for the last 14 years, dedicating their lives to establishing and building a flourishing church in South Africa."