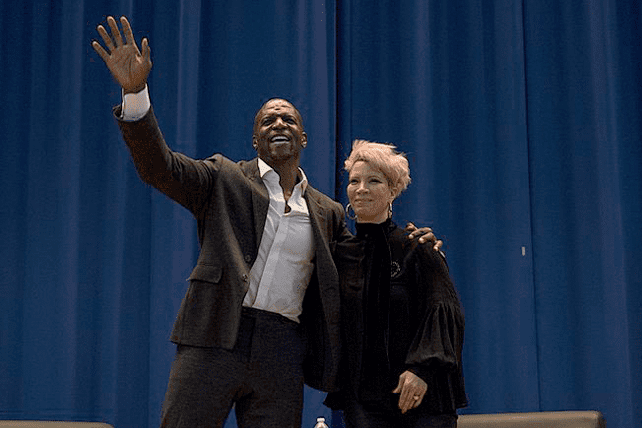 Last week while walking the red carpet at the 30th Movieguide Awards, an award ceremony for Christian entertainment held in Hollywood each year, actor Terry Crews expressed gratitude for his wife, Rebecca, who is a "praying woman," something that has been a lifeline for their marriage in good times and bad. 
While Crews, who was hosting the awards ceremony, attended by himself because Rebecca was preparing for New York Fashion week, which took place the next day and for which Crews would be boarding a red-eye flight to attend himself, Crews was quick to praise his wife of over three decades in an interview with the Christian Post. 
"She loves the Movieguide Awards," Crews said of Rebecca. "She said the prayer last time she was here…and she's sad she had to miss it."
Crews went on to say, "But she's a praying woman!"
RELATED: 25 Christian Celebrities Who Have Been Outspoken About Their Faith
"My wife, she has prayed us through so many things. And, you know, one thing I know is that to have a woman like that who really wants the best for you—let me tell you, there's no replacing [her]," Crews said. "It's absolutely the best feeling in the world. You know what I mean? And it makes us tighter, it makes us better, and it's just an incredible feeling."
An accomplished actor and host of "America's Got Talent," Crews went on to express gratitude for the opportunity to host the Movieguide Awards, adding that Hollywood is home to more Christians than many might think. 
"Hollywood gets a bad rap," Crews said, "because there are a lot of Christians in Hollywood. There are a lot of praying people in Hollywood, a lot of God-fearing people in Hollywood."
"And it's just that, you know, we don't always get an awards show," Crews continued. "And here it is! So that's why I knew it would be perfect for me to host this show…I just feel the blessing. I feel all the good energy here tonight, and it's wonderful."
While Crews has become a symbol of positivity for fans, Christian and non-Christian alike, he has also been open about the struggles of his childhood, as well as his marriage. 
RELATED: Christian 'America's Got Talent' Contestant 'Nightbirde' Loses Her Battle With Cancer at Age 31
Growing up in a home in which he experienced abuse, Crews struggled with anger and other unhealthy behaviors well into adulthood.