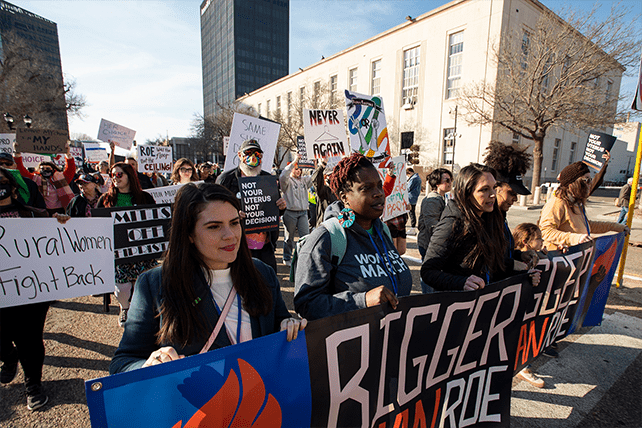 (RNS) — Nearly two-thirds of Americans support legal abortion and those views have not budged much in the months since the U.S. Supreme Court overturned the federal right to an abortion and sent control over the medical procedure to the states.
The same is true among religious Americans. Majorities of religious Americans support legal abortion. The outliers are white evangelicals, Jehovah's Witnesses, Latter-day Saints and Hispanic Protestants.
Those are among the findings of a new PRRI survey of nearly 23,000 Americans conducted between March and December of 2022. The Supreme Court released its decision in Dobbs v. Jackson Women's Health Organization, overturning the constitutional right to abortion, in June.
The survey also finds overwhelming opposition to a federal abortion ban. (Sen. Lindsey Graham proposed a 15-week abortion ban in September.) Just 12% of Americans said Congress should pass a national law banning abortion. In fact, 53% of Americans say Congress should pass a national law preserving a right to abortion.
"Support for banning the procedure is not popular at all with most Americans, not even Republicans," said Melissa Deckman, CEO of PRRI. States trying to enact near-total bans on abortion, she added, stand in contrast with "where most residents are in their views."
That's true of religious Americans as well. Among white evangelicals, only 23% favor a federal ban on abortion, while 52% say abortion laws should be left to the states to decide.
Since the Dobbs ruling, 13 states have implemented full abortion bans, some of which allow for exceptions if the life of the mother is in danger and in cases of rape or incest, and Georgia has a six-week ban in place, The New York Times reports. In many other states, the fight over abortion is hung up in the courts.
But while attitudes toward abortion have not shifted significantly since the court ruling overturning Roe v. Wade, they have moved more gradually in favor of keeping abortion legal over the past decade. Today, 64% of Americans say abortion should be legal in most or all cases, up from 55% in 2010.
That slow pace of change stands in contrast to Americans' dramatic rise in support for same-sex marriage over that timespan.
"We see a small uptick among Americans with respect to abortion rights," Deckman said. "But generally speaking, it's not running at nearly the same speed at which American have accepted same-sex marriage."  
In two religious groups, attitudes did shift in favor of legal abortion over the past year. Among Hispanic Catholics, support for legal abortion in all or most cases grew, from 57% in March (before the Supreme Court ruling) to 62% in December, driven by a significant uptick among that group in support for abortion in all cases. Likewise, support for legal abortion in all or most cases among Black Protestants grew from 73% in March to 75% in December, also the result of a significant increase in support for abortion in all cases. (Surveys were fielded in March, June, August and December, 2020.)
As expected, the survey found that abortion is highly polarizing politically, with lopsided views among the two major parties. More than 6 in 10 Republicans (63%) say it should be illegal in most or all cases, while nearly 9 in 10 Democrats (86%) say the opposite — that abortion should be legal in all or most cases.