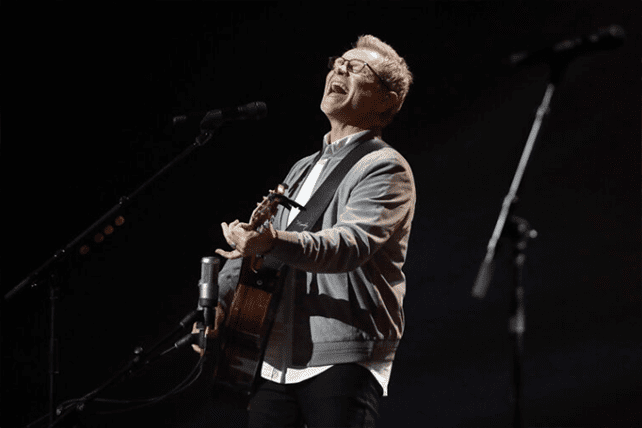 (RNS) — Singer-songwriter Steven Curtis Chapman has become the first contemporary Christian musician to have 50 chart-topping songs in his musical genre.
"Don't Lose Heart" boosted the longtime performer to the history-making stature of 50 No. 1 radio hits.
"I'm completely blown away by the support for this song and for my music, even after so many years," Chapman said in a statement. "To ever have a number one song at radio as an artist/songwriter is a dream come true, and to have fifty is simply unbelievable! This only happens because of an amazing team and a community of friends around me who have believed in the unbelievable. I'm grateful and humbled beyond words."
The first time Chapman, 60, had a No. 1 song was with his single "His Eyes" on his 1988 "Real Life Conversations" album.
Other top songs were "Live Out Loud," "I Will Be Here," "For the Sake of the Call," "Dive" and "The Great Adventure."
Chapman joins the rare musicians with 50 or more top radio hits in their respective genres, including country singers George Strait and Conway Twitty and pop star Madonna.
Chapman's "Don't Lose Heart" was released in 2022 as a part of "Still," his latest album, and addressed the loss and grief his family has experienced.
In 2008, his 5-year-old daughter Maria was killed in a vehicle accident in their family's driveway.
"Living between heaven and the real world — that's kind of where I feel like I am right now, longing for heaven more than ever now because I believe that's where my daughter is," he told Religion News Service in a 2017 interview when he released his book, "Between Heaven and the Real World: My Story."
"And yet (I am) still living in a very real world with unfixable things and brokenness."
In February, Chapman released a new version of "Don't Lose Heart" featuring country singer Mitchell Tenpenny.
"We are so honored and excited to be a part of Steven's 50th No. 1 song with 'Don't Lose Heart,'" said Holly Zabka, president of Provident Entertainment/Sony Music, in her company's announcement about the artist. "This unprecedented and monumental achievement for Steven is a testament to the incredible artist and songwriter he is and can only be outshined by the countless lives that have been changed by his music."
Chapman also has 16 albums listed on the Billboard 200 and has 59 Gospel Music Association Dove Awards — more than any other artist — along with five Grammy Awards.
He is scheduled to begin a tour on Thursday (March 2), stopping at two dozen locations during the spring.
This article originally appeared here.