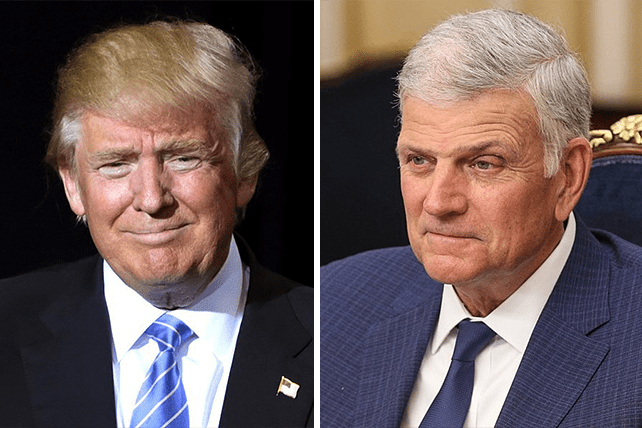 With a possible criminal indictment of former president Donald Trump looming, evangelist Franklin Graham took to Twitter on Monday (March 20) to urge Christians to pray for the country generally, as well as for Trump specifically.
The potential indictment, which would come down from Manhattan District Attorney Alvin Bragg, centers on an investigation into money allegedly paid to pornographic film actress Stormy Daniels in 2016 just prior to Trump's presidential election win. Daniels claims that the $130,000 of so-called hush money was given to her in exchange for her silence regarding an affair she and Trump had, an affair Trump denies ever occurred. 
Trump was invited to testify before a grand jury earlier in March, but he declined. He could face charges of falsifying business records, as well as violating campaign finance laws. 
If indicted, Trump would become the first former president in United States history to face criminal charges.
Trump predicted that the indictment would be handed down on Tuesday (March 21) in a Truth Social post, further urging his supporters to "PROTEST, TAKE OUR NATION BACK!"
While physical turnout to a Monday protest outside the Manhattan Criminal Court where Trump would conceivably be arraigned was low, numbering roughly 50 people, numerous Trump supporters have taken to social media to express their outrage at his possible indictment.
Among them is evangelist Franklin Graham. While Graham has been intentionally opaque in recent months about which Republican candidate will receive his support in the 2024 presidential race, he has nevertheless been a faithful ally of Trump through the years. 
"We need to pray for our country and where it is headed. The left in Washington and across the country just can't get their fill of attacking Donald Trump," Graham tweeted. "They are so paranoid of him. The onslaught against him is continual." 
Graham continued, "There's no question, the media and the left manipulated the last election, and they are scared to death of Donald Trump's possible return. So, night after night, the media runs negative stories about former President Trump."
"Now they're talking about the possibility of arresting him in the hopes that this would prevent him from running for president again—this would be a huge mistake. The charges against him are definitely politically motivated," Graham argued.
RELATED: 'Woke Transagenda' — Franklin Graham Denounces Hershey's Ad Featuring Trans Woman
"I would like to ask Christians across this country to pray specifically for former President  @realDonaldTrump, that God's hand would be upon him, protect him, and direct him in every step he takes—and that God's will be done. We need to work together to strengthen this nation—not divide and destroy it," Graham concluded.
We need to pray for our country and where it is headed. The left in Washington and across the country just can't get their fill of attacking Donald Trump. They are so paranoid of him. The onslaught against him is continual. There's no question, the media and the left manipulated…

— Franklin Graham (@Franklin_Graham) March 20, 2023