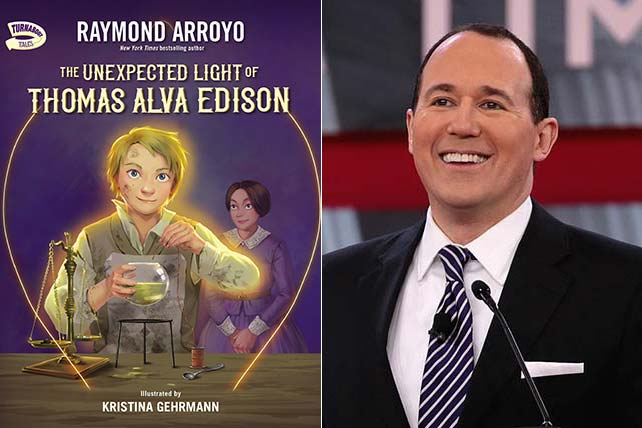 Fox News Contributor and Editorial Advisor for Fox News' "The Ingraham Angle" Raymond Arroyo recently released a new children's book titled "The Unexpected Light of Thomas Alva Edison."
The book is the first in The New York Times bestselling author's "Turnabout Tales," a series that aims to revive lost stories of historical figures for a new generation. The series is illustrated by Kristina Gehrmann.
Explaining why he was drawn to a story about Thomas Edison, the award-winning journalist said, "We often forget that talent is nurtured by love and belief."
RELATED: 'This Is Us' Star Chrissy Metz Releases Children's Book Focused on Prayer
"I was drawn to Edison when I read a comment where he attributed his entire career as an inventor to his mother," Arroyo said. "At a critical point, when he was tossed from school, it was Edison's mother who recognized his spark and changed the trajectory of his life. My hope is that the whole series will inspire kids and their families to be open to the direction of their children's gifts and interests. Often it is by looking back that we can see the best way to go forward—and that's what I hope to do with 'Turnabout Tales.'"
During his interview with ChurchLeaders, Arroyo reminded Christian parents: "The stuff of life is often right before our eyes around the dinner table. The greatest gift you'll ever have is right there, and many times, I think we are distracted or drawn away to things that frankly don't matter very much."
RELATED: Kirk Cameron's Children's Book Rejected From Story Hour in Over 50 Public Libraries
This is part of the reasoning being writing the "Turnabout Tales" series, the father of three shared. "The reason I wrote 'The Unexpected Light of Thomas Alva Edison' is to remind people of the wonder and the joy and the God-given gift of children and family and that if we focus anew on that, we can continue to not only tend the light that these children have, but extend that light on and on and on."
"Thomas Edison is a wonderful exemplar" of just that, Arroyo continued. Edison created a vacuum tube light over a century ago and "that gift—that light—continues to shine in our own era. That itself, I think, is its own allegory and one that I wanted to sort of awaken people to in a quiet way."
"The Unexpected Light of Thomas Alva Edison" also includes an author note and bibliography for further reading. A Teaching Guide and Activity Guide will be available for free download to parents and educators at www.zonderkidz.com.