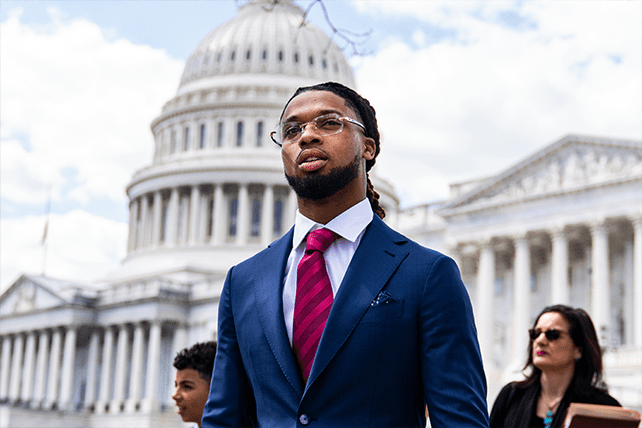 On Jan. 2, the world seemed to stand still as Buffalo Bills safety Damar Hamlin lay lifeless on the field during a Monday Night Football game against Cincinnati Bengals.
Hamlin became incapacitated after what appeared to be a routine tackle. After initially rising to his feet, Hamlin suddenly collapsed and went into cardiac arrest. 
As the game was put on hold and emergency personnel rushed to the field, players, coaches, commentators, and spectators turned to prayer. After struggling to stabilize the young athlete, medical personnel loaded Hamlin into an ambulance on the field, his prognosis uncertain. 
In the days that followed, the conversation surrounding Hamlin's health continued to be marked by prayer. ESPN analyst Dan Orlovsky prayed for Hamlin on live television. In an appearance on Anderson Cooper 360, former NFL star Benjamin Watson emphasized prayer and unity while also urging viewers to turn to Jesus in light of the fragility of life.
RELATED: Miami Basketball Players Drop to Knees in Prayer Following Victory Advancing Them to Final Four
Thankfully, Hamlin's health began to improve. By the following weekend, he was well enough to speak. He expressed his gratitude to those who had rallied around him, saying, "The love has been overwhelming, but I'm thankful for every single person that prayed for me and reached out."
Later that month, Hamlin expressed his belief that God wished to use him "as a vessel."
Now, Hamlin is putting that belief into action through his advocacy for the Access to AEDs Act, which would ensure that public schools have access to automated external defibrillators, a device that saved his life but that schools often go without.
Traveling to Washington D.C. with a group of school students from his hometown of Pittsburgh to push for the legislation, Hamlin appeared at a press conference promoting the bill. He also met with lawmakers and the president. 
To garner support for the bipartisan bill, Hamlin is seeking to bring awareness to the fact that 7,000 children under the age of 18 suffer from cardiac arrest in America every year, many of whom are student athletes. The survival rate for students in schools that have AEDs is seven times higher than those that don't. 
RELATED: Christian College Wrestler Under Fire for Criticizing Islam in Post-Match Interview
"Today, I thank each of you for focusing on the idea that every kid should have the same access to a lifesaving emergency response that I did, should they need it," Hamlin said during the press conference. "Thankfully, the medical team with the Buffalo Bills was prepared, and they saved my life."