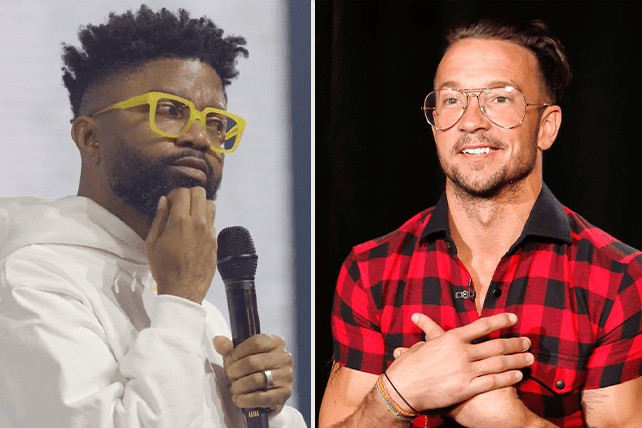 Last week, Transformation Church in Tulsa, Oklahoma, made headlines by bringing Carl Lentz, former pastor of Hillsong Church's New York location, onto their staff. Lentz was dismissed from Hillsong amid scandal in 2020, having admitted to an extramarital affair. 
Later, allegations of spiritual and sexual abuse were levied against Lentz, who formerly rubbed elbows with celebrities and professional athletes, though he has denied the truth of those claims. 
The scandal surrounding Lentz's leadership featured heavily in a three-part docuseries titled "Hillsong: A Megachurch Exposed," which was released on Discovery+ in March 2022.
After nearly three years of remaining out of the spotlight, Lentz has now joined the staff of Transformation Church in a role focusing on the church's ministry strategy.
RELATED: Well-Known Pastor Draws Criticism for Rubbing Spit on Brother's Face As a Sermon Illustration
"We gladly welcome Carl Lentz to our Transformation Church staff, helping TC with strategy as we continue to move forward in our vast vision," said executive pastor Tammy McQuarters in a statement. "We believe in Carl, his marriage, his skill set, and his restoration."
Pastored by Mike Todd, Transformation Church is no stranger to controversy itself, as Todd's elaborate sermon illustrations occasionally generate impassioned online discussion and criticism.
During services on Sunday (April 2), the church directly addressed reports of Lentz having joined the staff team. Tim Ross, who serves as the church's oversight pastor and who also gave the sermon, delivered the brief statement. 
"I just want to make a statement, point something out. It made national news last week that somebody got a job," Ross said as scattered cheers began to swell. "And I'm happy when anybody gets a job. I want people employed. But because of who this individual is and has been to the body of Christ, it made a little bit more news."
Ross continued, "Transformation Church issued a statement that I am not going to repeat. It speaks for itself. But I do want to read a Scripture that I hope just brings some context to what we are doing as a church for Carl, Laura, and their family."
RELATED: Former Hillsong Pastor Carl Lentz Takes to Instagram in First Post Since 2020
"It's very, very important for us to know as a church—and for the larger body of Christ, because I'm sure there's some people that are just curious—the Lentz family is not hiding here," Ross said. "They're covered here."