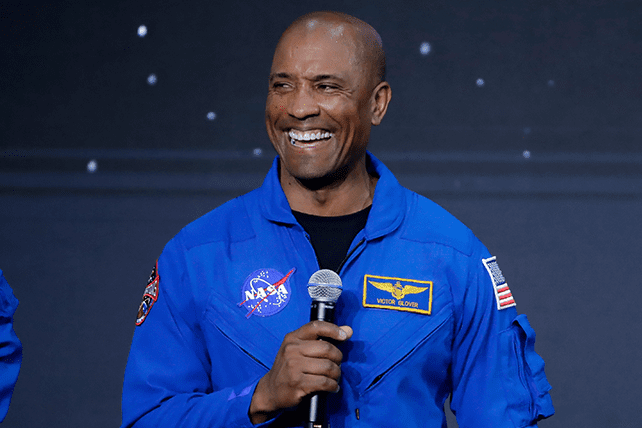 For the first time since 1972, NASA is sending astronauts to the moon. The mission, called Artemis II, will be to fly successfully around the moon, proving that the new transportation system is fit for a lunar landing. 
Building on the success of Artemis I, which was an unmanned mission, Artemis II will lay the groundwork for Artemis III, which will land on the moon and establish camp. The long-term vision is to build infrastructure that will eventually allow astronauts to launch from the moon to Mars. 
Victor Glover, one of the astronauts on the crew of Artemis II, hopes to take his Bible with him and plans to pray his way through the journey.
A devoted Christian and Sunday school teacher, Glover has been vocal about his faith while serving as a NASA astronaut. In 2020, while on a six-month mission at the International Space Station, he regularly joined his church in Houston for online worship and even brought prepackaged communion elements with him to space.  
RELATED: Astronaut Victor Glover Brought His Bible, Communion Cups to Space Station
Looking ahead to this next monumental mission, prayer has been a major component of his preparation.
"I know that God can use us for his purposes," Glover told Christianity Today. "When Jesus was teaching the disciples to pray, he used that very specific prayer that we all know, 'Our father who art in heaven, hallowed be thy name …' So, listen, I am a messenger of his kingdom; his will be done."
Notably, not only will this be NASA's first trip to the moon in over 50 years, but Glover will become the first Black man America has sent to the moon. 
Guion Bluford became the first Black man to enter space in 1983, and Mae C. Jemison was the first Black woman to leave the atmosphere in 1992.
Christina Hammock Koch will also be part of the Artemis II crew, making her the first woman to reach the moon.
Though Glover's journey will be historically significant, not only as a technological achievement but also as an advancement for diversity and representation, Glover has expressed that he isn't exactly comfortable with his race being a key component of the conversation surrounding the mission.
"I don't want to be divisive," Glover told CT. "I want to represent the American people."
Though he is eminently qualified, with 24 combat missions, 3,000 flight hours, three graduate degrees, and four spacewalks under his belt, Glover became concerned that if his race became a point of emphasis, debate would swirl as to whether he was selected over other qualified astronauts merely for the sake of diversity.
Glover was so adamant that his race not be a featured part of the announcement of the mission and crew that he threatened to ground himself. Nevertheless, while the official NASA press release did make explicit reference to "the first woman and first person of color" setting out for the moon, Glover decided to remain on the crew. 
RELATED: New Looks Into Deep Space Bring New Assurances of God's Presence, Astronomers Say
"So I prayed a lot about that," Glover said. "More than whether I would be on the mission, I prayed about how to navigate that."