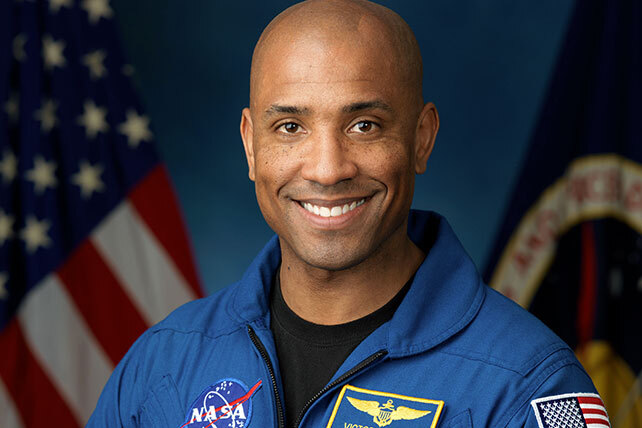 Thanks to "really good internet connectivity" that reaches into the heavens, NASA astronaut Victor Glover is worshiping virtually during his six-month stay on the International Space Station (ISS). Glover, 44, is part of the four-member crew on the SpaceX Crew Dragon's capsule Resilience, which launched from Florida's Kennedy Space Center on November 15.
Glover, the crew's pilot, recently discussed his Christian faith, his family, and how the pandemic has helped him prepare for a groundbreaking mission. In a video interview with The Christian Chronicle, Glover and his wife, Dionna, also share how they plan to continue worshiping virtually as a family while he works 250 miles above Earth.
Astronaut Victor Glover Makes History
Glover, who's spent seven years training for this trip, is the first Black astronaut to stay long-term at the ISS and the 15th Black NASA astronaut to reach space. When asked about that historical significance, Glover replies: "I wish it would have already been done, but I try not to draw too much attention to it." The milestone, he adds, is "bittersweet because I've had some amazing colleagues before me that really could have done it, and there are some amazing folks that will go behind me."
After studying engineering at California Polytechnic State University and receiving three Master of Science degrees, Glover served as a Navy fighter pilot, seeing combat in Iraq. While working as a legislative fellow for Arizona Senator John McCain in 2013, Glover received an invitation from NASA to begin astronaut training in Houston.
Now he's on the first commercially developed space vehicle certified to transport NASA astronauts. At the ISS, Glover and his teammates are working on robotic equipment, conducting experiments, and taking space walks. Despite all the excitement, the astronaut focuses on his job, on safety, and on using "the abilities that God has given me to do my job well and support my crewmates and mission and NASA."
The lengthy training process also became a spiritual exercise, Glover says, because it involved "understanding the role of God in my life and God's authority and my submission to that, and the love, support, and encouragement that that can create in my life." Though he'll focus on work, Glover admits he's also anticipating "looking out the window and taking the pictures and taking in the moment."
Practicing Faith in Outer Space
While packing for the half-year trip, Glover included his Bible and communion cups, saying he'll continue his family's pandemic habits of virtual worship, virtual giving, reading Scripture, and praying. Though he's "always been a student of theology," Glover admits he wasn't as devoted to growing in faith until he met his wife. Dionna grew up in the Church of Christ denomination, and the couple—married since 2002—is raising their four daughters in that faith tradition.
Because of the pandemic, the family has been worshiping together virtually with two Church of Christ congregations near Houston. (Victor also watches sermons by Atlanta Pastor Orpheus Heyward.) In-person worship "is not the right thing for us" during the "interesting times" caused by coronavirus, Glover says, "but we still want to make sure we're doing what we need to do." Faith and worship are "very important to our family and bringing up our kids," he adds, "so we still attend (church) as a family even though we're doing it virtually."
Pandemic-related adaptations have helped Glover prepare for space, he says. Astronaut training involves building teamwork and resilience amid challenges, including isolation. "It's important to have different ways of finding encouragement" while away on a mission, Glover says, "and for me, my family and my church and my Bible and praying are going to be a big source of that."
Prayer Is Key for High-Risk Work 
As a pilot and now as an astronaut, Glover says he relies on prayer and communication when facing danger. Before every flight, he prays and lets his family know he loves them. "I'm not in combat anymore being shot at," he says, "but there's still a risk." If something were to happen—"if today is my day"—Glover wants to make sure he's been in touch with his wife and kids, and that he's "had a chance to commune with God directly." That sets his mind at ease so he can "go and do what I need to do and feel good about it."