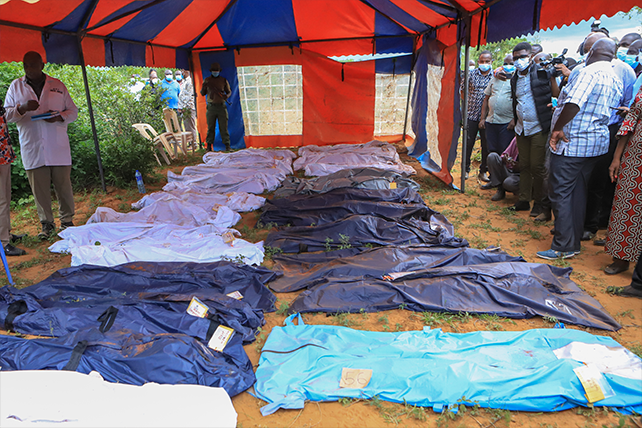 Police have discovered the bodies of 39 people on the property of Paul Makenzie Nthenge, a pastor in the Kilifi County of Kenya who was taken into custody earlier this month after allegedly encouraging his followers to starve themselves to death in order to "meet Jesus."
After receiving a local tip that Nthenge was engaging in cult-like practices, police raided Good News International Church, of which Nthenge had been pastor. 
Police went on to discover 15 victims who had been convinced to starve themselves. Four of those victims died from starvation, and the remaining 11 were rushed to the hospital for medical care. The group of victims include men and women ranging between 17 to 49 years old. 
The concerned community members who alerted the police reportedly characterized the victims as "brainwashed." Police said the victims had been "radicalized."
RELATED: 4 Churchgoers Die After Starving Themselves To 'Meet Jesus'; Pastor Arrested
Nthenge had previously been arrested in connection with the deaths of two toddlers who died by starvation. The parents of those children were attenders of Good News International Church. Nthenge was released on bond after being charged. 
At the time of Nthenge's latest arrest, police were advised that his property, which is in a forested area, might have been the final resting place for more victims. Though police initially said that the search was made difficult "by virtue of [the] vast land (area) and hostile residents in the forest," they have now discovered dozens of bodies in shallow graves. 
According to the Associated Press, local politicians have urged the court not to release Nthenge as it has in the past, decrying the spread of cults in the area. 
William Ruto, president of Kenya, said on Monday Nthenge's alleged crimes are "akin to terrorism."
RELATED: Pastor Dies Attempting 40-Day Fast Modeled After Jesus' Wilderness Temptation
Nthenge is reportedly on a hunger strike while being held in custody.