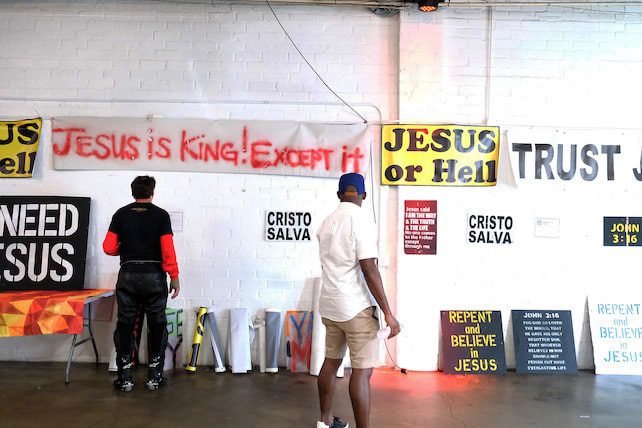 LOS ANGELES (RNS) — It started as a small group of atheists tracking and removing religious signs from public streets in Los Angeles. Now, this network spans more than a handful of states, with volunteers documenting and taking down illegally placed religious material on utility poles and overpasses across the country.
Known as the Atheist Street Pirates, the group formed in 2021 as a subset of the LA-based Atheists United, a nonprofit that's been in the city for 40 years and that seeks to "empower people to express secular values and promote separation of government and religion."
The street pirates' goal is to clear city streets of religious propaganda.
Evan Clark, the executive director for Atheists United, created a public Google map database where the street pirates upload photos and locations of the signage they encounter during commutes.
RELATED: In LA, 'Atheist Pirates' remove religious signs from public streets and overpasses
A year ago, the map showed about 70 signs across LA County, including material taken down by the pirates or others. The map now includes about 1,000 markers for religious signage that has been reported, tracked, or removed in such states as Texas, Tennessee, Georgia, Illinois and Kentucky. Volunteers focus on religious signs on public land, not paid billboards or signage on church property.
La's Atheist Street Pirates Go National in Efforts to Remove Illegal Religious Signs Bright yellow "JESUS SAVES" signs also appear quite commonly in North Carolina, according to the map.
Through this work, Clark, who identifies as an atheist and humanist, said he has recognized a "larger phenomenon happening, where Christian nationalists, evangelicals and other types of religious fanatics are using our public land illegally for their proselytizing."
On Sunday (April 23), Atheists United held an art exhibition in LA featuring signs and banners that volunteers have removed from across Southern California. Clark said showcasing the signs this way helps show the magnitude of the issue.
Dozens of posters with the words "Jesus. The way. The truth. The life" were prominently showcased on a wall during the exhibit. These signs are the most commonly seen in LA along busy intersections, public parks and freeway off-ramps. More than 130 have been removed, according to Atheists United. Some of these signs are stapled and can be easily torn down, but many are placed atop telephone poles and attached with roofing nails. Volunteers have had to use a crowbar and ladder to remove some signs.